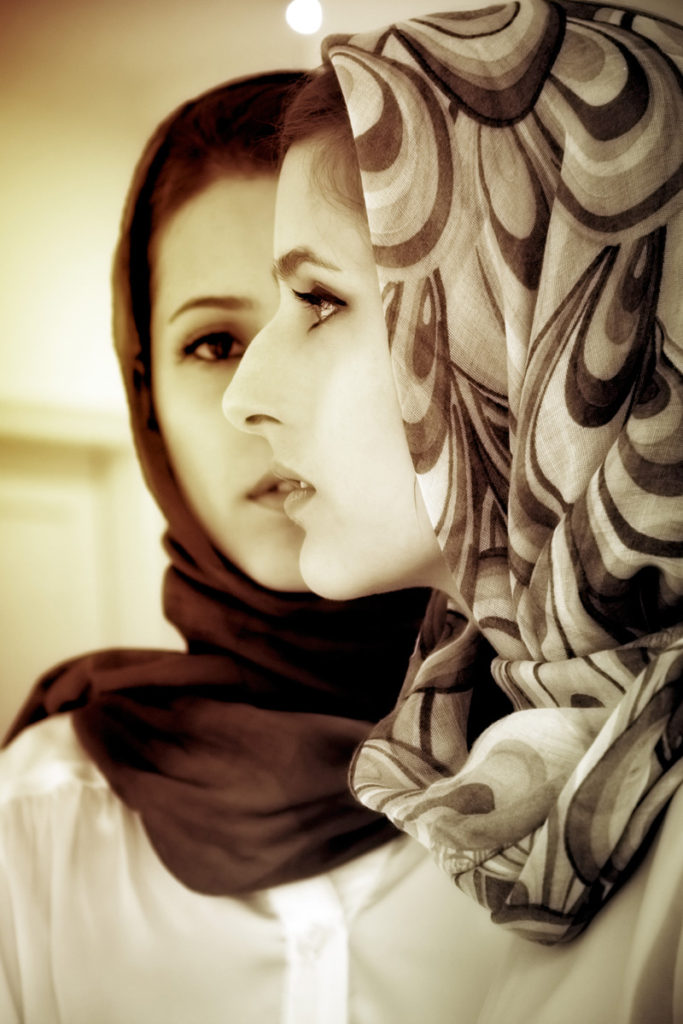 Hailing from Iran, a land of rich heritage and tradition, twin sisters Maryam and Marjan Baniasadi are currently graduate art students at the prestigious National College of Arts, Lahore. Having completed their undergraduate programme in Fine Arts earlier this year at NCA; Maryam in Miniature Painting and Marjan in Painting; the thesis exhibition of both artists individually was a great success and applauded by art enthusiasts and critics alike. Here they talk about their love for art and painting, life in Pakistan and how their home country and host country jointly play a significant role in shaping not only their viewpoints but also the strokes of their brushes.
MARYAM BANIASADI
Why did you choose the medium of miniature painting as opposed to other art forms to express yourself? What does it mean to you?
Choosing miniature was a decision I took once I got familiar with the art scene in Pakistan. It was when I started my bachelors at NCA, Lahore that I got acquainted with the prestigious miniature department and was fascinated from the get go.
To me, it was something new. I always had an interest in detailing which is probably the primary reason I chose this medium to express myself. I really enjoyed the initial focus on Moghul miniatures; and that, coupled with the freedom I had at NCA to express my own body of work, really set the tone for what I was going to do.
I believe miniature painting is a regional art form pertaining particularly to Asia, which also helped me bridge identities between my indigenous Iranian culture and my current residency in Pakistan.
How would you describe the romanticism of miniature painting?
To me miniature painting is something which connects with the soul of nature. It translates into an understanding of the circle of life, of how God created nature and how I'm creating my own composition. With its calm movement within the frame, it transcends into the spiritual realm of life. Tell us more about your life as a miniature artist.
Where did you learn the technique? What kind of miniatures do you paint?
Like I mentioned earlier, NCA was the first place where I started learning the technique of miniature painting. I really enjoyed the styles they taught us but I also wanted to move beyond and see how Iranian miniature painting could assist my work.
I took summer classes with Mohammad Bagher Aghamiri in Tehran for two months every summer that I would go back. It was quite interesting to note his reaction when he would see my work. I would find him amused and amazed at the same time. This contemporary miniature craft was new to him. In Iran the practice of miniature painting is quite different, both conceptually and in technique, as it emphasizes the traditional method. Persian miniature art form makes use of direct gouache paints whereas in NCA we were taught to make our own paints mixing it with safeeda and gum Arabic.
I took wasli (paper) from Pakistan to Iran with me because I love the texture of its surface and I couldn't find something like that in my home country. On the other hand, the brushes I use are the Iranian ones. There are things I like from both the Iranian side of miniature as well as the Pakistani style, which means I end up adopting the concepts I like most from each side.
What inspires your work? What role does Iran (your country of origin) play in your work? Has Pakistan had any impact on your work in terms of inspiration, cultural diversity, and social outlook?
I believe creativity in art is influenced by the state of mind of the artist. A person will behave in a certain way in different situations and lives. I try and recreate the places that I have been to, the journeys I have made, in a traditional miniature style. It is about recording the surroundings and the history. In a way, my art work is a map of the landmarks of my journey through life. I love documenting the past in my own way.
Pakistan has had a great impact on my work. I would even go so far as to say, if I weren't in Pakistan in these years, I would never have done miniature paintings. This medium has connected me to both Iran and Pakistan. Every summer I would go to Iran and get new inspirations and then come back and mix them with my inspirations from Pakistan. I want to show the connection between the two countries – the similarities and differences.
Please elaborate on your recent work, what it means and the thought behind it.
I want to revive the miniature painting style not as a reproduction but as a depiction of contemporary life – a documentation of daily life and daily activities. I always try and maintain an element of calm within my work. Often, it has humour too. Experience and time plays a major role in shaping my work. My recent body of art is a series on Lahore, the ordinary people here, and what I see aroundme every day.
MARJAN BANIASADI
Why did you choose the medium of painting as opposed to other art forms to express yourself? What does it mean to you?
There's not one, but a number of reasons why I chose painting as a form of expression. Firstly, I love the freedom that painting gives to personal expression. Then, the variety in size, technique, medium and layering always makes it easier to put ideas onto surface. I also get dazzled by colours, as they have always been an important medium for conveying various emotional elements. The shine of oil paint and its fixable quality; the matte quality of acrylic and its feel of being expressive and quick – I like working with both these textures as each medium caters to a different concept.
What art movement inspires you the most? Do you have a favourite artist or a favourite painting?
I have always had a great sense of respect for the old masters as well as the leaders of new movements. Every art movement has its own interesting stories. Therefore, I cannot narrow it down to any single one.
My favourite Iranian artists who also served as my mentors are Mehrdad Khataie and Ali Beigiparast. From the Western world, I greatly admire the works of Lucian Freud, David Hockney, Vincent Van Gogh and Gustav Klimt. My favourite Pakistani grand masters are Sadeqain and Allah Bux, and from amongst the contemporary art scene, Salman Toor.
Tell us about your life as an artist. How early did you develop an interest in this medium?
To me art is not a career choice but a way of life. From an early age, I was fascinated with imagining things differently and then bringing them out of my memory vault through drawings and painting. In high school, I studied science, but all day I would look forward to the evenings, as that was the time for my art classes. Soon after, I started playing music (9 years ago) and the possibilities of being able to express myself in more than one medium of art gave me a sense of adventure and opened up doors of possibilities for me.
What inspires your work? What role does Iran (your country of origin) play in your work? Has Pakistan had any impact on your work in terms of inspiration, cultural diversity, social outlook?
Nature, human beings and my surroundings inspire me. Raised in Iran, an Islamic state, and having lived some years of my life abroad, I often find myself observing the contrast between people, places and how my life is different in each area.
This has led me to question boundaries, cultures and beliefs. However, home is always home! The language, the culture, the memories, childhood, school, family, food and snacks too, they have all played a role in shaping my reality and my persona and they all eventually come into play in my work. Iran is a beautiful country; it is full of history, art and culture and over the years, my homeland has proved its greatness.
My most recent work is inspired by Persian carpets. Being away from home yet living with my family here in Lahore with Persian carpets all over our house gives me a sense of belonging and makes me feel like we are back in Iran.
Carpets play an essential part in Iranian family life. Us Persians never move to a place without our Persian carpets and they all come with a backstory. For example, on a personal level, it is something I took my first steps on as a baby! The best part is that it is so easy for people in Pakistan to relate to my work without having to explain much. Iran and Pakistan have had mutual histories with each other.
It is really amazing how these two lands are so close to each other and yet so far. Contrary to common practice, your art work is quite diverse not only in terms of themes, but in ways of approaching it – the brush technique, abstract vs. realism, choice of subjects.
Please elaborate on your recent work, what it means and the thought behind it.
My recent work is a series called 'Listen To This Carpet'. The idea was to use carpets as a metaphor for faded memories and their replacement by new things. In a way it is my comment on countries and states.
The most inspiring time for this series was when I went to Iran last summer and researched on how carpets are made. I walked through various carpet bazaars looking at both traditional and modern carpets. Throughout the entire it was the weaving that had the greatest impact on me.