In an effort to enable a broad audience to engage with contemporary art, Goethe-Institut Pakistan, in collaboration with the Lahore Biennale Foundation and VASL, Karachi, presented its year-long project titled Urbanities – Art and Public Space in Pakistan. A critical exploration of urban space, its complexities and possibilities, with special reference to Pakistan's controversial and contested urban space, the project brought together a global consort of a cademics, artists and creative practitioners in a series of events that included artist residencies, exhibitions, talks and workshops.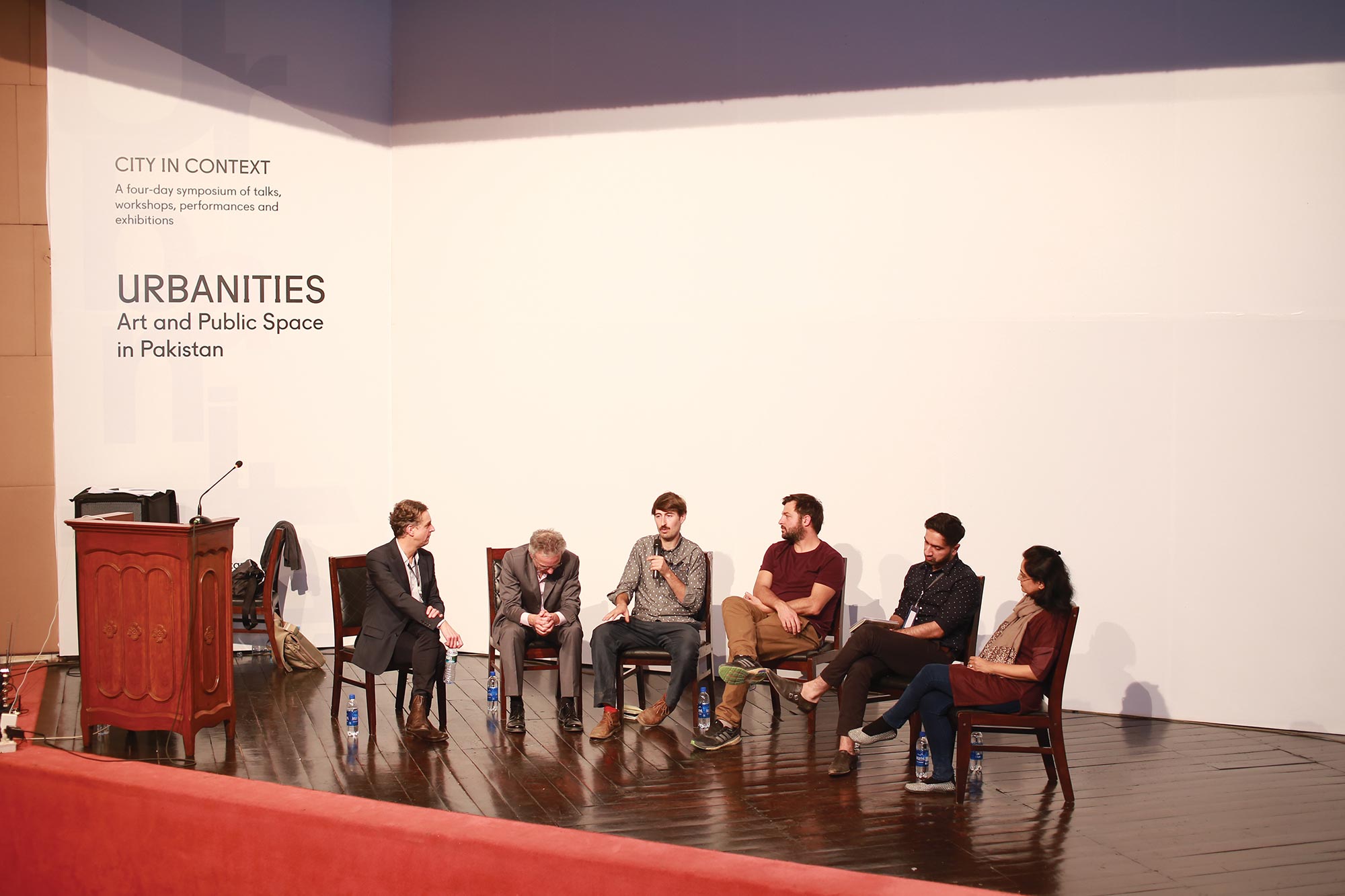 Why is it important to create art that engages with the public? How does the resident of a city interact with his or her space? What defines a contested space? Answers to these, and many more, questions were found at Urbanities – Art and Public Space in Pakistan, a year-long collaborative project of the Goethe-Institut Pakistan with partners Lahore Biennale Foundation and VASL, Karachi. Comprising several elements that came to fruition beginning Dec 1st, 2016, the project included two eight-week artist residencies and a two-day programme of panels, talks and workshops contained within the Lahore Biennale Foundation's four-day symposium, "City in Context."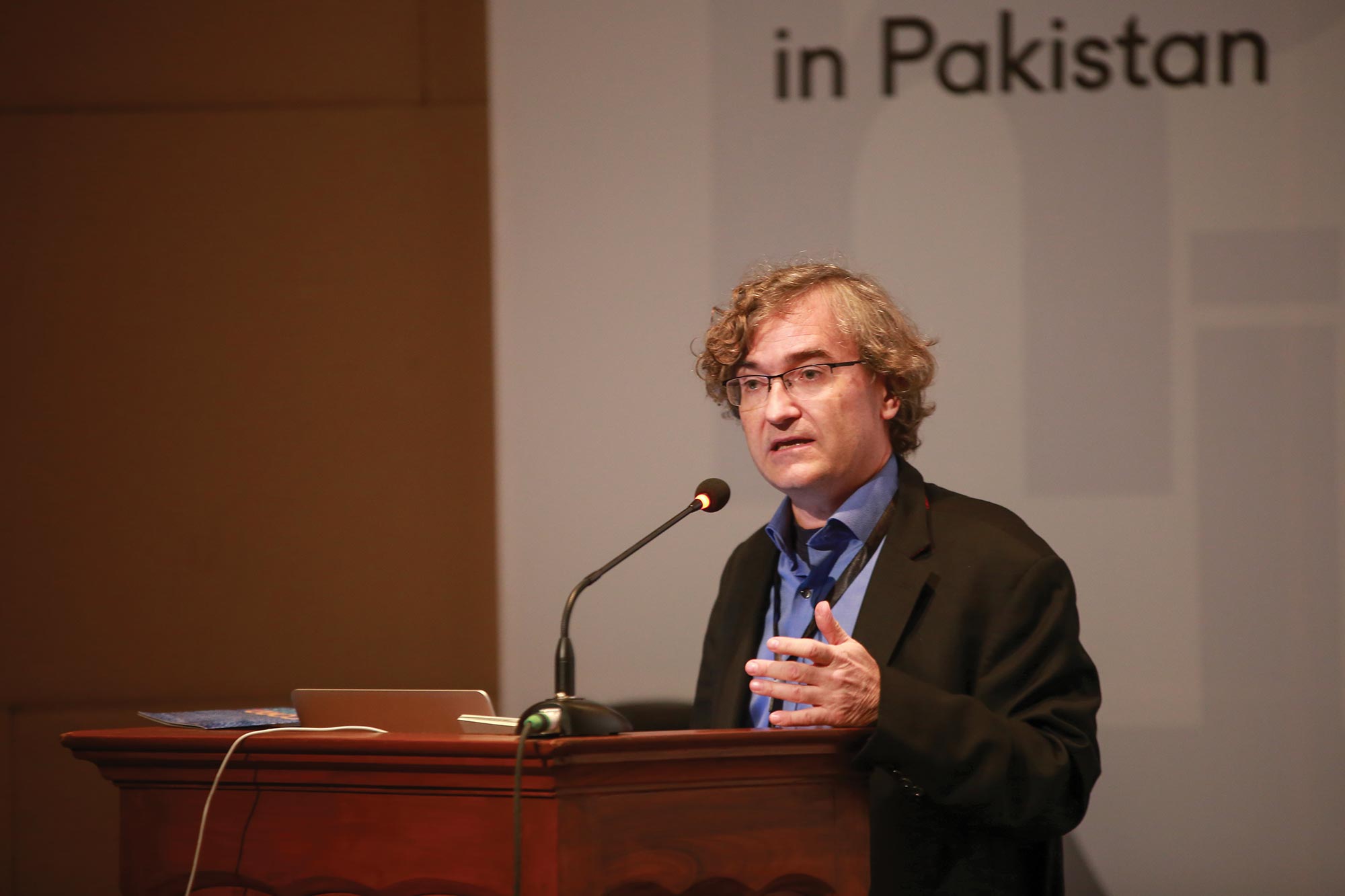 Opening remarks by Chairman of the Board, LBF, Osman Khalid Waheed and Director of the Goethe-Institut Pakistan, Stefan Winkler, set the tone for the conference. Urbanities invoked insightful conversations and group discussions. The theme for all of these of course was the urban, i.e. having to do with city. Which city, one might ask? To be specific, the cities of Lahore and Karachi, but to open it up, perhaps many of the cities of the Global South (i.e. in Africa, Asia and Latin America), as well as cities the international speakers live and work out of, such as Berlin, Hamburg, Pristina, Cairo and Detroit among others. In this regard, Lahore then served as both focal point, and backdrop, to a truly global consort of academics, artists and creative practitioners. This multiplicity of expertise came through in the line-up of events open for participation and display, notably the exhibition Urbanities which featured the work of resident artists Miro Craemer, Honi Ryan, Inteligencias Colectivas, as well as an opening night lecture-performance on the consequences of unchecked urban development by the Karachi-based duo Shahana Rajani and Zahra Malkani.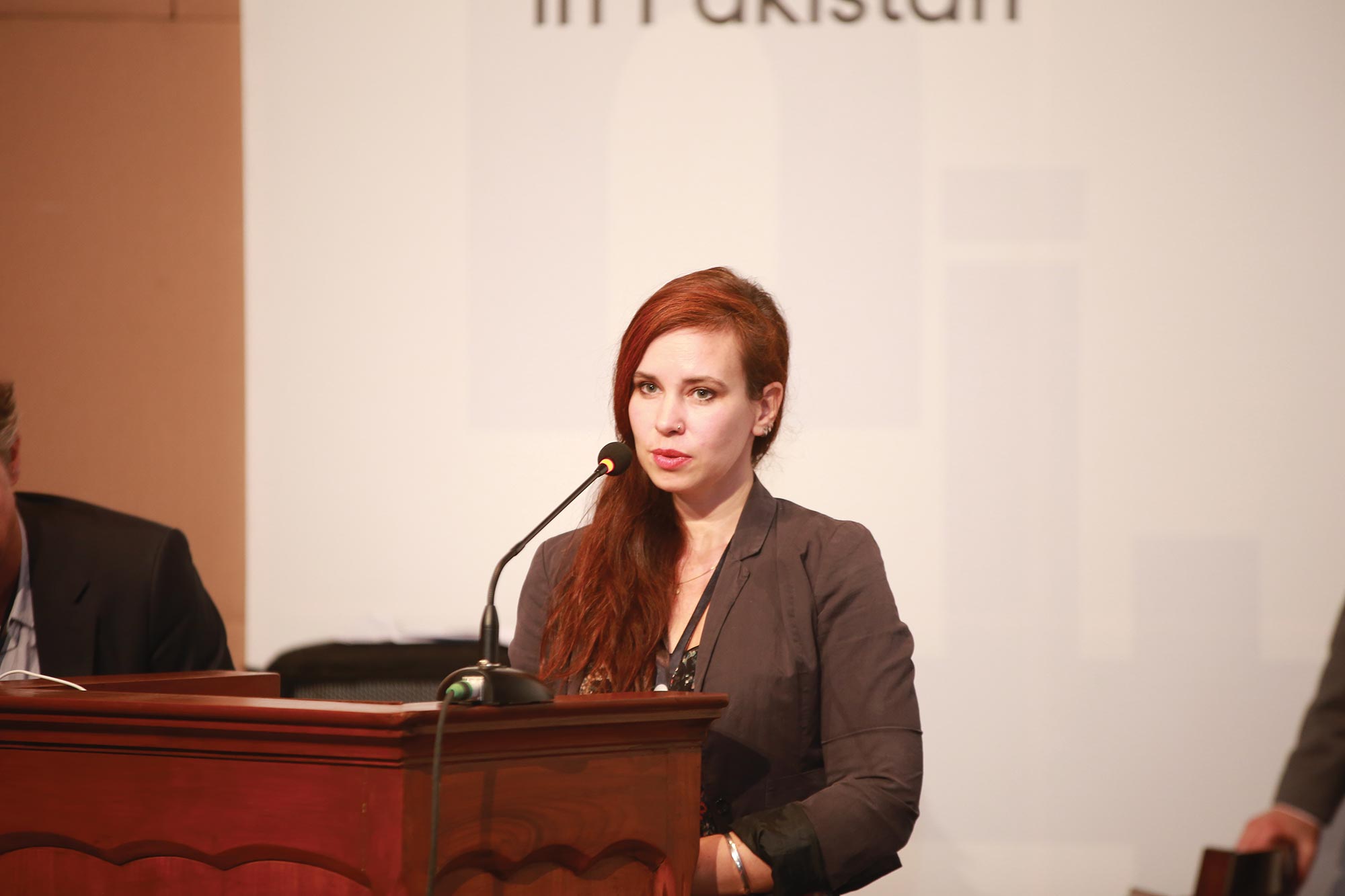 The exhibition was curated by German cultural producer and writer Sara-Duana Meyer. For this initiative, Meyer also served as project manager for the Goethe-Institut. For Meyer, public space is an important area of consideration. "I am interested in projects that have a social resonance. It was about ten years ago that I first worked on a public art project in Germany. I have not been as excited about working in the arts for a long time as I have been with Urbanities."
Why is it important for us to talk about public space? I ask Meyer. "Space is never only architecture – it encompasses thinking and culture inside itself and its structures," she explains. And that, I think, is the answer as to why the Goethe -Institut is interested in creating dialogue and art that engages with the public. It is the public that must shape the space it inhabits, and recognize its right to provide input on how its various environments function.
Panel discussions on day one focused on urban creative practices, ranging from presentations on informal construction in small-scale industries to creative techniques as practiced by local artists. On a different panel Miro Craemer, Marvi Mazhar, Adeela Suleman, Kai Vockler and Attiq Ahmed reflected on "contested space" – any space upon which multiple stake-holders have an interest or claim. Such spaces are found world over, and especially so in Pakistan. Environmental lawyer and LBF Board Member Rafay Alam elaborates, "In urban planning, a lack of interaction between stakeholders often means that, when they meet, differing backgrounds and discourse do not allow them to properly understand each other's points of view." Interestingly, on day two of Urbanities, speaker Matthias Einhoff gave a workshop on this very subject where local educators, artists and students came together to participate in a mock Town Hall style meeting between different stakeholders – the workshop and subsequent performance was so popular it lasted roughly twelve hours!
The above mentioned conversations, whether difficult or enlightening, ask us to become invested in our immediate surroundings. Moreover, cultural exchange fostered through Urbanities allowed international visitors to experience Pakistan firsthand. The success of Urbanities can be gauged by the fact that "possibly three future collaborations are in the works between Pakistan, Germany, and Cairo," reports a representative of the
Goethe-Institut, Karachi.
 ARTISTS IN RESIDENCE:
LITERAL AND CREATIVE JOURNEYS
In July 2016, a jury comprised of representatives from all partner organizations met and chose Honi Ryan and Miro Cramer as Germany- based artists who would come to live and work in Pakistan.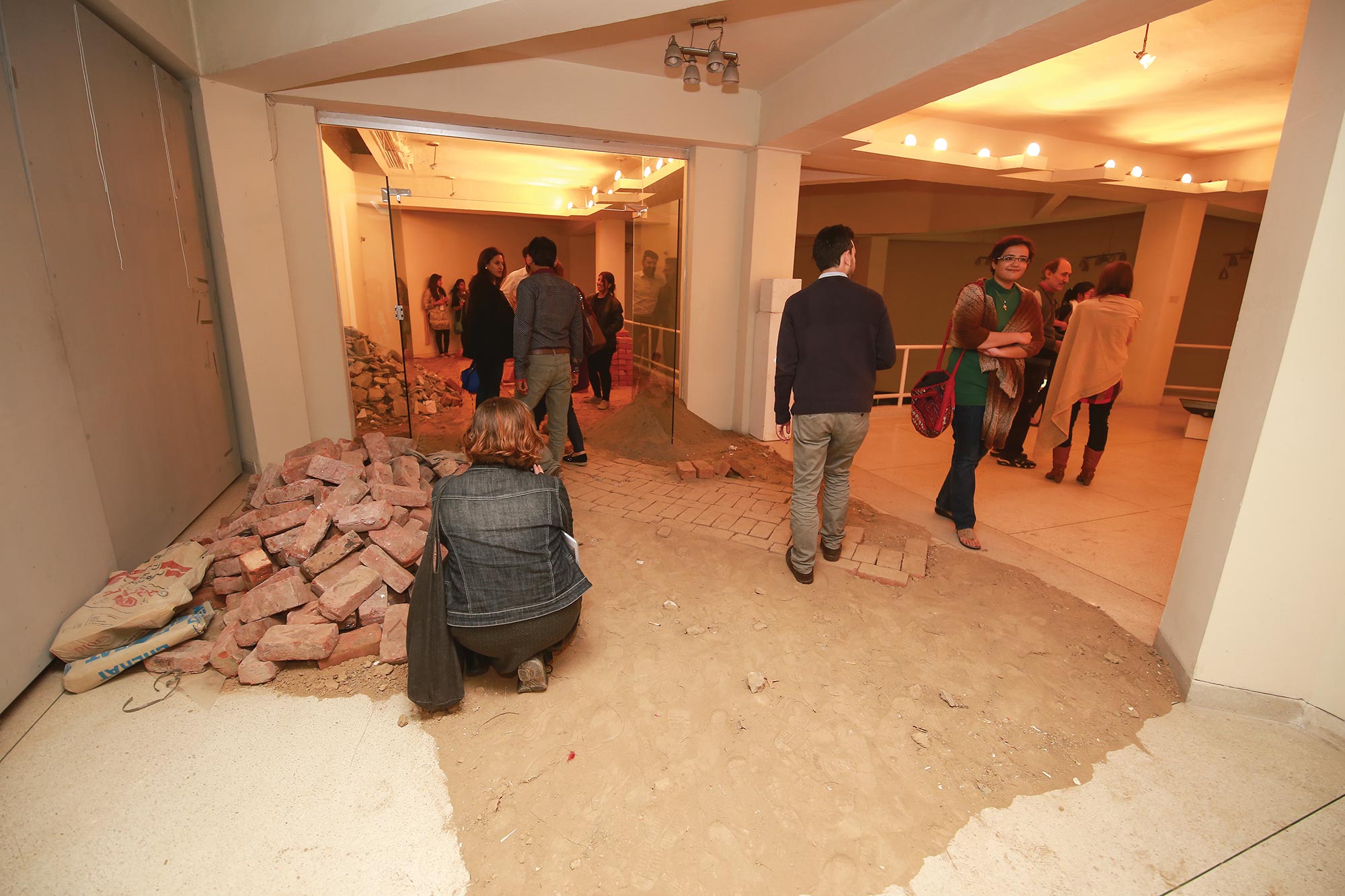 Pakistan is a "challenging" country, says Meyer. "Often a problematic image of the country has been perpetuated in the media – we wanted our artists to understand the situation on ground, and we wanted to get good people here." The requirements of the residency were that artists would have a research component to their work, and a cross-disciplinary focus, as well that they would make a right match for the city. Regarding the selection of performance and installation artist Honi Ryan, Qudsia Rahim, Vice Chair and Co-Founder of the Lahore Biennale Foundation says, "It was the emphasis on mundane and everyday activities that one engages in – which are transformed in Honi Ryan's practice – that drew us towards her project. The mere act of stopping and thinking can be enough to reflect and appreciate the opportunities in our lives."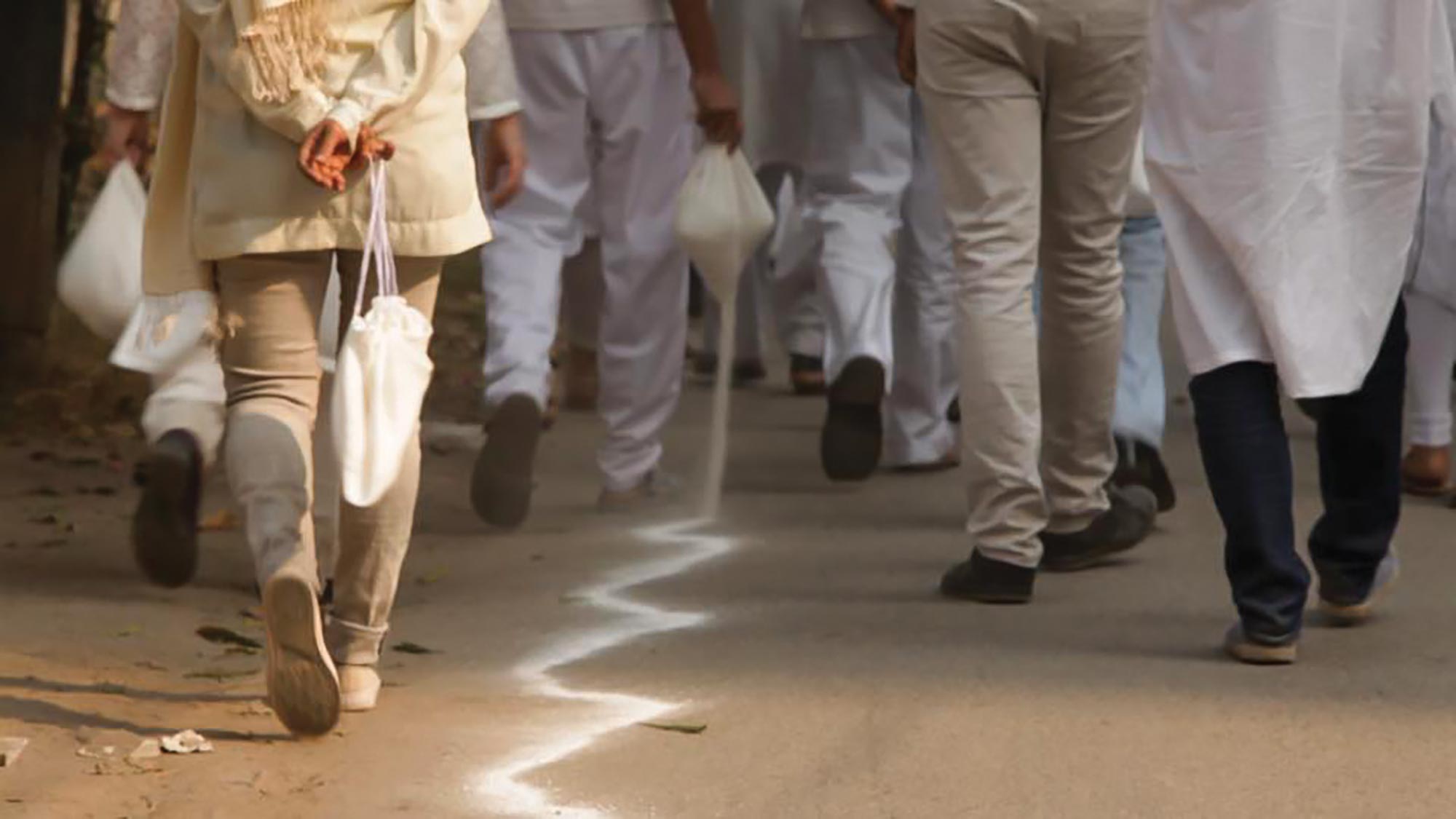 In Lahore, Ryan's research methodology included one-on-one walks with locals to different areas of the city, including to Gulberg, Anarkali, Ichra and Model Town (Subjective Geographies). Two Silent Walking Performances took place in the months of November and December, and a 1200ft footpath was developed and placed along Kasuri Road in collaboration with Attiq Ahmed of OCCO. A final piece created for the Urbanities exhibition brought a section of the footpath, complete with dirt and rubble, right into the pristine gallery space.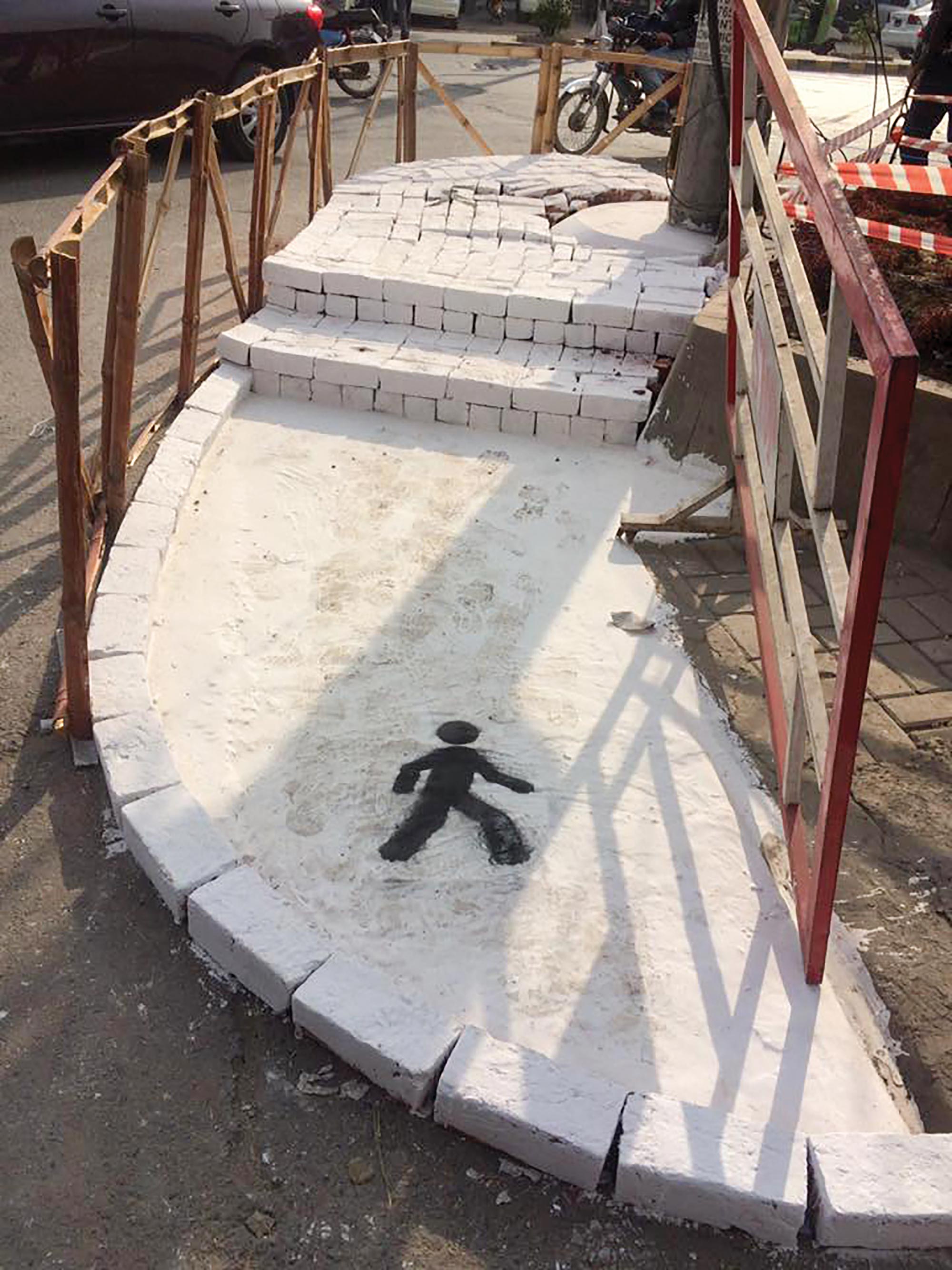 "Simple changes in the city's urban character, like a demarcated footpath may bring about a change in behaviour, as well as in how we perceive the immediate urban environment while engaged in the act of navigating city streets when walking," says the artist. The Footpath Intervention was also a chance for the artist to stir up relevant conversations with residents and community in the area, including with commuters, fruit vendors and retail establishment owners from the vicinity. Displaying true Lahori hospitality, during the production phase residents of the neighbourhood invited the artist in for cups of tea while others praised her installation as providing a safe and clean space for pedestrian use.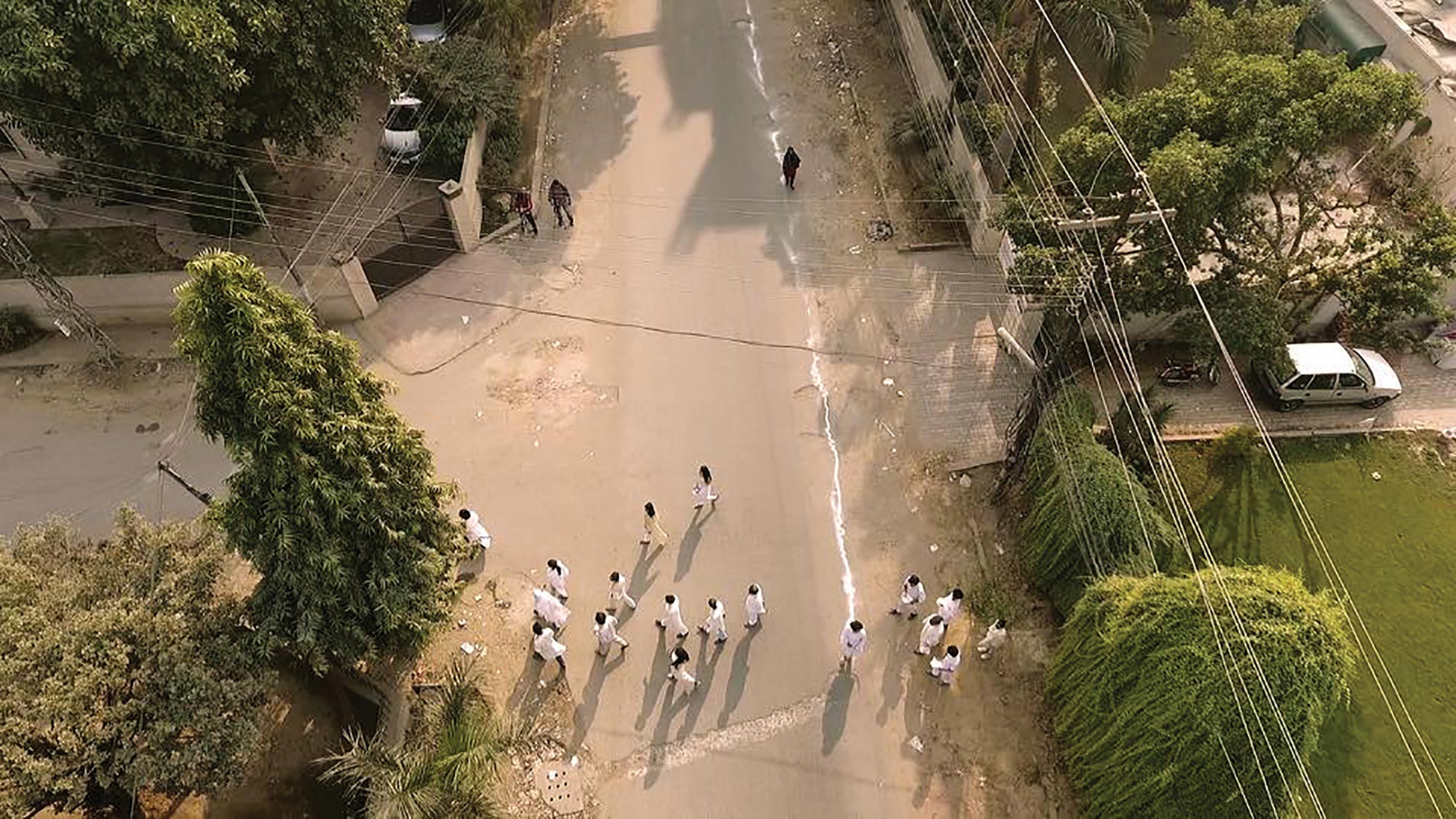 Karachi artist in residence, Miro Craemer is a fashion designer who runs an eponymous design house; at the same time he is also a social designer. As a social designer, Craemer uses fashion not only for aesthetic value, but to bring up questions of how the garment trade operates. In his own fashion studio on Munich's busy Maximillianstrasse, Craemer incorporates principles of fair trade that ensure all workers are treated fairly.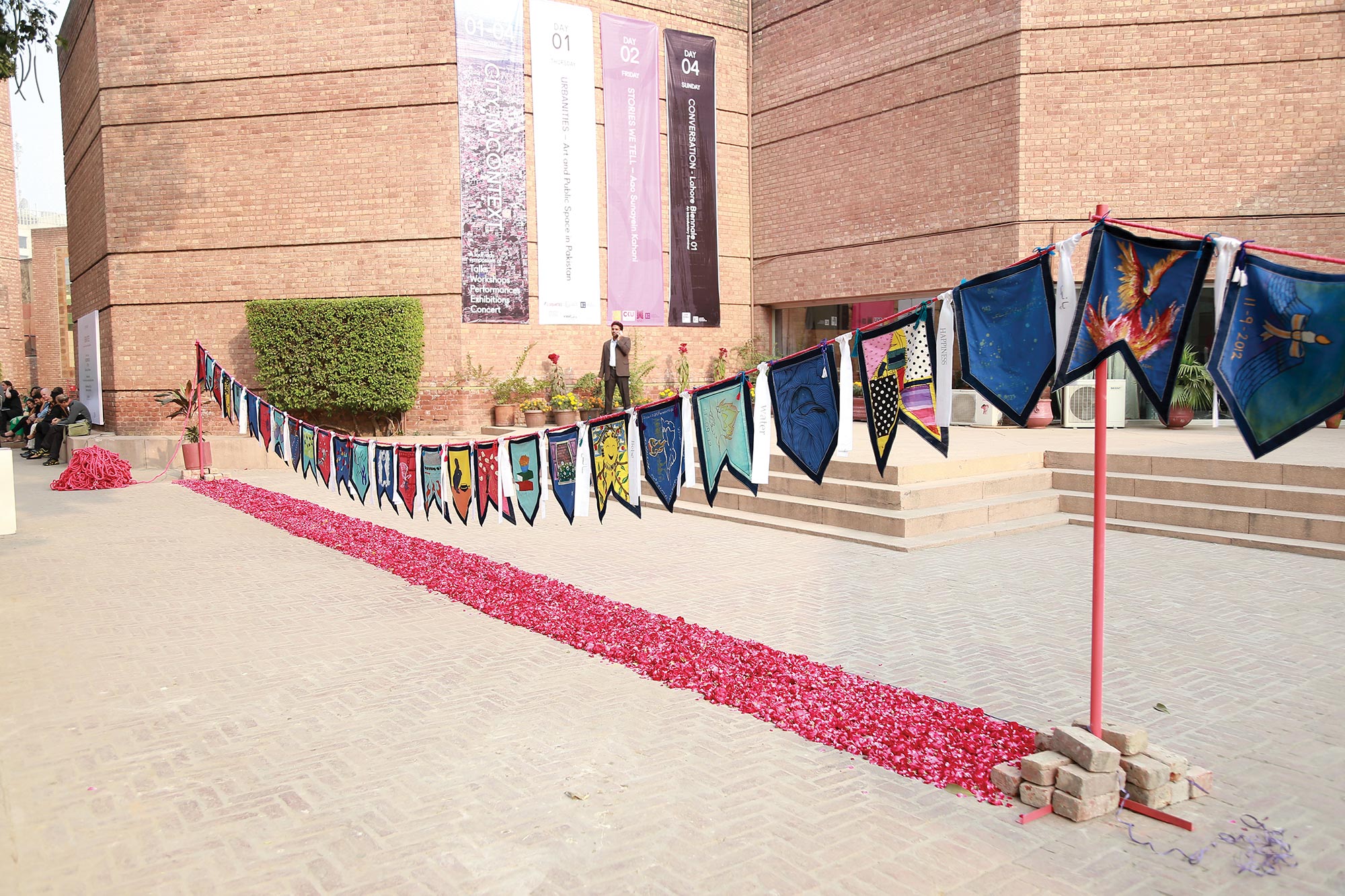 Cord of Desires, a social sculpture that the artist created for Urbanities, was situated right outside Alhamra Gallery 1, a garland of flags that hung between two flagpoles. Denim twill formed the frame of each flag, while the inner part was dyed in colours typical to the Indus region. This sculpture was produced with the support and input of art students in Karachi. For the research aspect of his residency, Craemer interviewed Karachi's textile workers, including the families of those affected by the deadly Baldia factory fire of 2012. Dedicated to the wishes and ideas of the textile workers who are "seemingly the weakest links in the production chain of the global textile industry, this project speaks exactly the same language that the workers are known to speak with high precision: the language of textiles," explains the artist.
Cord of Desires then represents the desires of Pakistani textile workers, and of those who have been disadvantaged within the global garment industry. Having had the opportunity to work with a broad cross-section of the fashion industry here, ranging from high fashion to local craft, Craemer was all praise for the high degree of skill Pakistanis possess in traditional arts such as embroidery.
Truly collaborative in nature, both resident art projects encapsulate the spirit of the Goethe-Institut's mission, which is to facilitate "a real exchange between artists, researchers, curators and practitioners from Pakistan and from abroad. To incite meaningful and relevant projects, to engage the audience and to inspire conversations."