On its journey to constantly sample good food, this month #DestinationsDiscovers Loco, the new tapas bar and restaurant that has taken the Karachi food scene by storm.
Tantalizing the taste buds of Karachi folk, tapas bar and restaurant Loco has recently opened its doors amidst a swarm of new food joints. One ingredient sets it apart – Loco has life beyond this moment. To put it simply, unlike other newbie restaurants, it refuses to follow pre-existing food trends. Instead, Loco has established itself as a trendsetter by introducing Spanish cuisine to the scene, a first for the city.
Loco is the brainchild of a group of passionate young foodies that incudes Rayyan Durrani, whose previous forays into the gastronomical stratosphere include three successful ventures – Simple Dimple, Churros & Choc, and Jucy Lucy. The partners' approach to the business is clear-cut. "What Loco is today is part of the vision us partners share. We want to do much greater things for the love of food and business." They integrate local ingredients from markets and bazaars, bringing back bags of fresh, seasonal goodies to the kitchen for experimentation. The partners share a common ideology: "be aware of what's local and get inspired from what's global." The success of this mantra can be witnessed first hand every time one makes a call for a reservation but finds the restaurant fully booked for weeks ahead.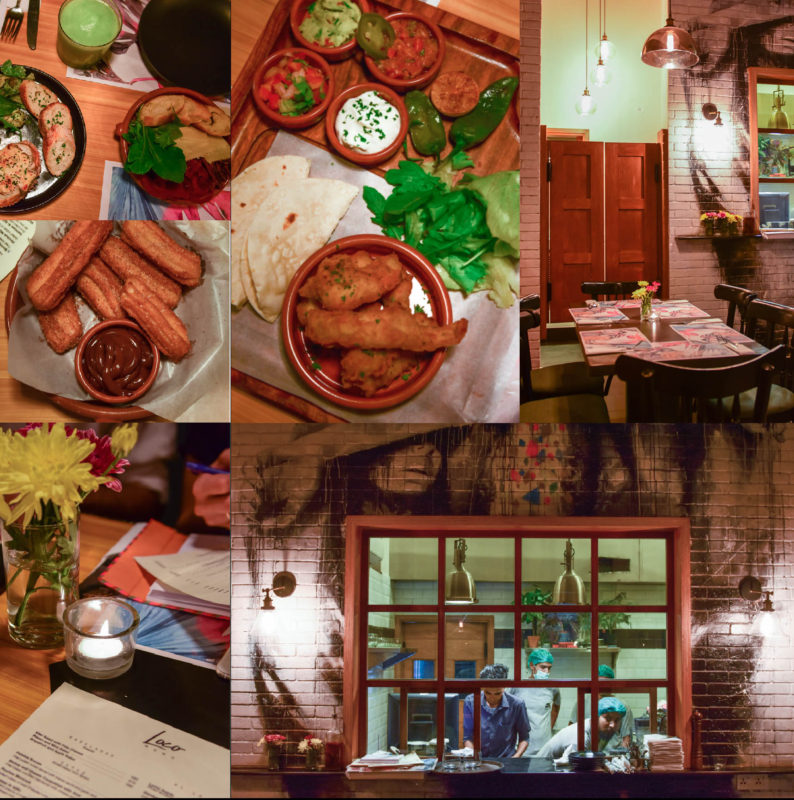 Lucky enough to get a table for two a few weeks ago, DESTINATIONS embarked on a journey to sample Loco's culinary delights. Upon first sight, the restaurant's vibe felt young and fresh – think NY-style loft, minimalistic in its control of grunge. A spotted, aged mirror added an almost sensual duskiness, creating an illusion of depth. The lighting was dim enough to conceal the romance one has with one's meal, giving the place an intimate and relaxed feel. A citrus-y aroma encircled us and stimulated our appetites, prepping us for the holy ritual ahead. The music was appropriate – flamenco played in the backdrop whilst we surfed through the menu; the right volume and just the right beat! As one customer summarized: "The vibe, ambience, music and cutlery (keep a look out for those solid rosewood trays and tribal coffee cups) speaks nothing but Loco!"
The menu offered a wide range of dishes including tacos, pizzas, steaks, desserts and drinks, served family-style for everyone to share. The fresh and vibrant ingredients included avocados, tangerines, raw fish and fresh breads. Based on this fact, the prices at Loco are reasonable for the quality and quantity of the food being served. The service was at par with the best restaurants of the city – the staff was warm, accommodating and helpful in their recommendations. It felt like we were meant to be at Loco and nowhere else!
From Our Table
Manchego Cheese with Cured Meats Cazuela
Manchego cheese is cured in the La Mancha region of Spain using the milk from sheep of the manchega breed. It is light and the freshness and subtlety of its flavour coupled with the two different kinds of cured meats offered an alternative to the generic bread basket served at most restaurants. It was sufficient enough to satisfy our cravings and got us ready for the dishes to follow.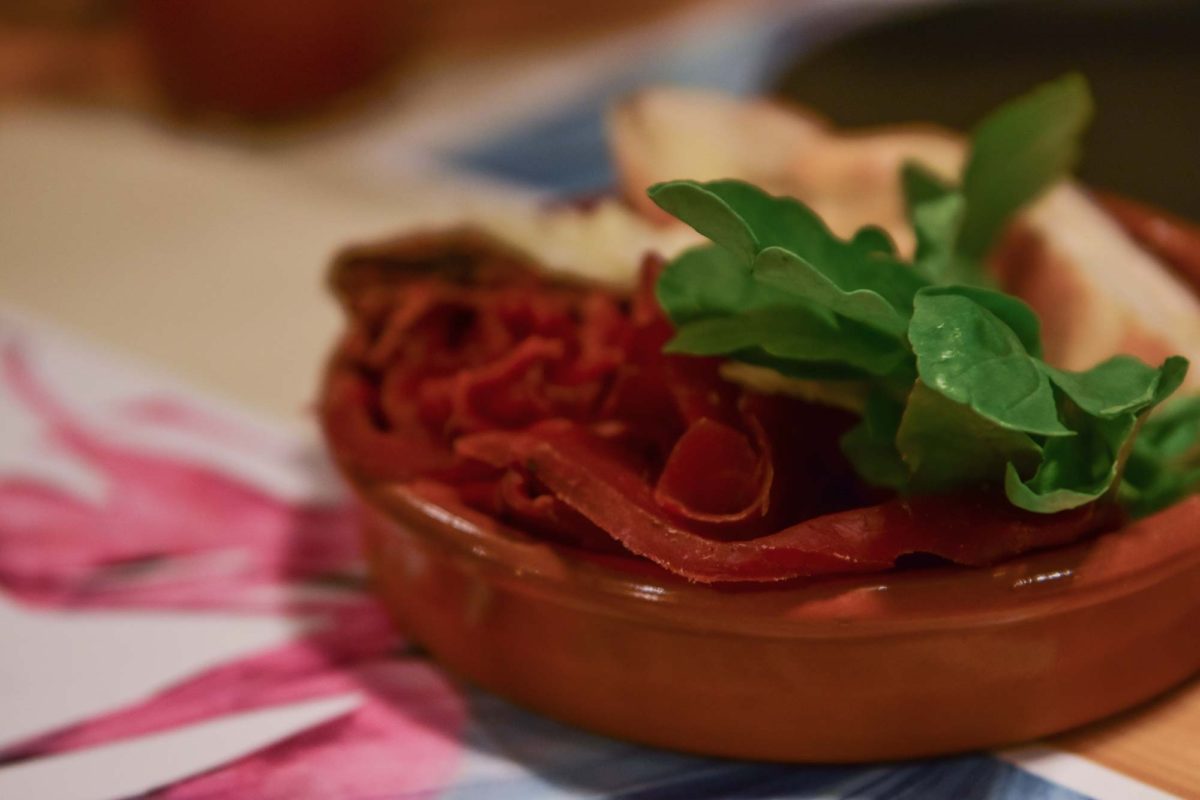 Baked Crab & Cheese Dip
A big hit on our table! The crab was served in a cheesy sauce poured into its shell, with a side of fresh salad in a tangy vinaigrette. Similar to the more common crab thermidor, what set this dish apart was the heat at the end of each bite. And even though there was heat and spice, the dish stayed true to its Spanish origins and wasn't localized to pander to popular taste. The portion was just the right size and the bread served with it was warm and chewy. We rated it 10/10!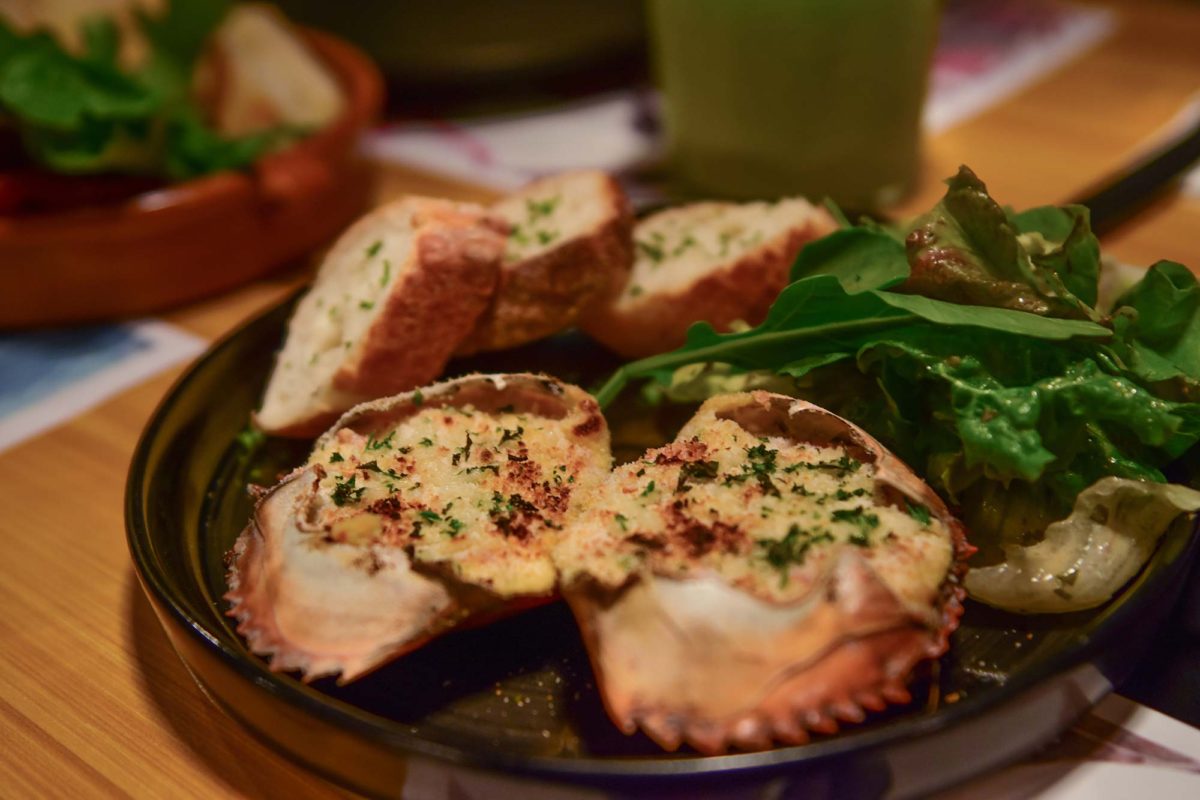 Snapper & Avocado Ceviche
Fresh, summery, tangy – delicious! The snapper was delightfully fresh and the ceviche was aromatic. Ceviche is a South American dish made with marinated raw fish and seafood – a new take on uncooked fish for the Sakura-loving Karachiites. Fair warning: the ceviche was a bit tart due to the citrus zest used as a drizzle. Perfect for a summer lunch, its coolness is rather unforgettable.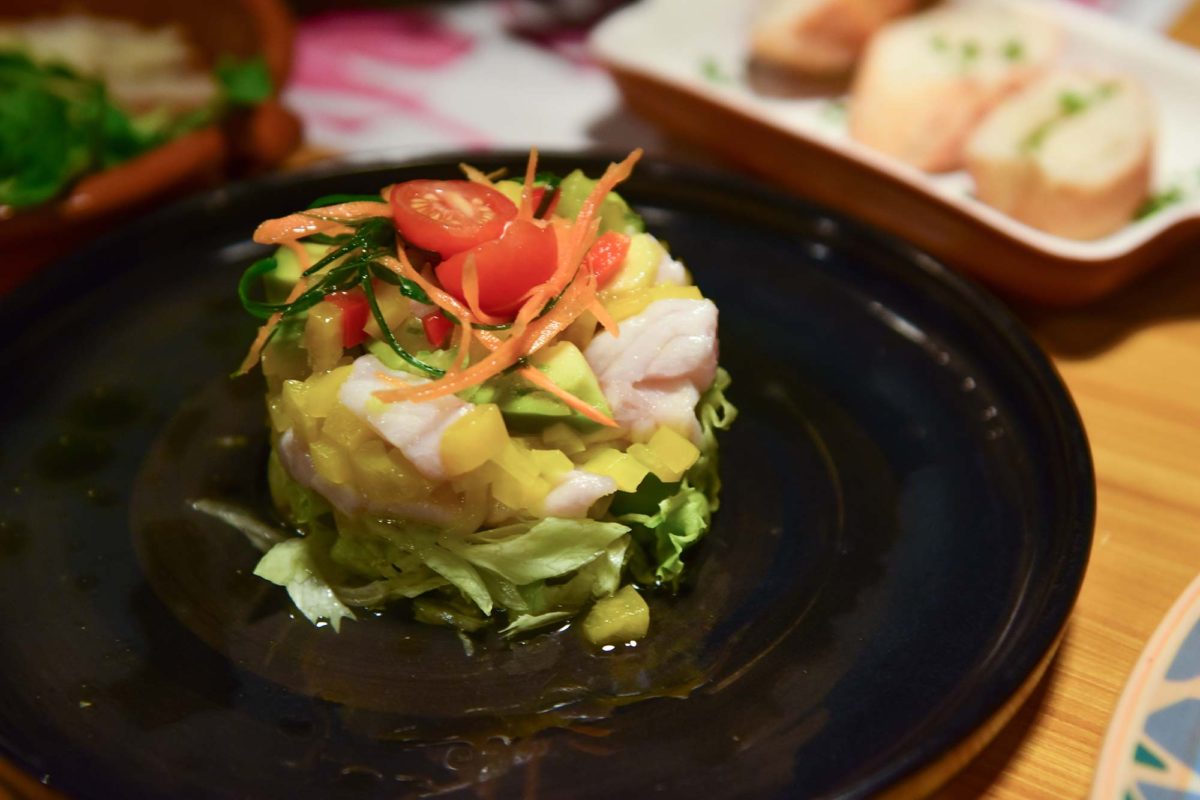 Baja-style Fish Tacos
It is so exhilarating when the flavour or fragrance of a particular dish takes you back to a fond memory. These fish tacos took me to my favourite taco food-truck in San Diego, one I frequented as a child on family trips. Although the fish itself could use some more seasoning, it was fried to crisp perfection and was accompanied by adequate amounts of guacamole, sour cream and salsa. What stood out for me was the service involved whilst serving this dish – the staff brought out hot, fresh taco shells, two at a time, to ensure the delivery of the perfect flavour.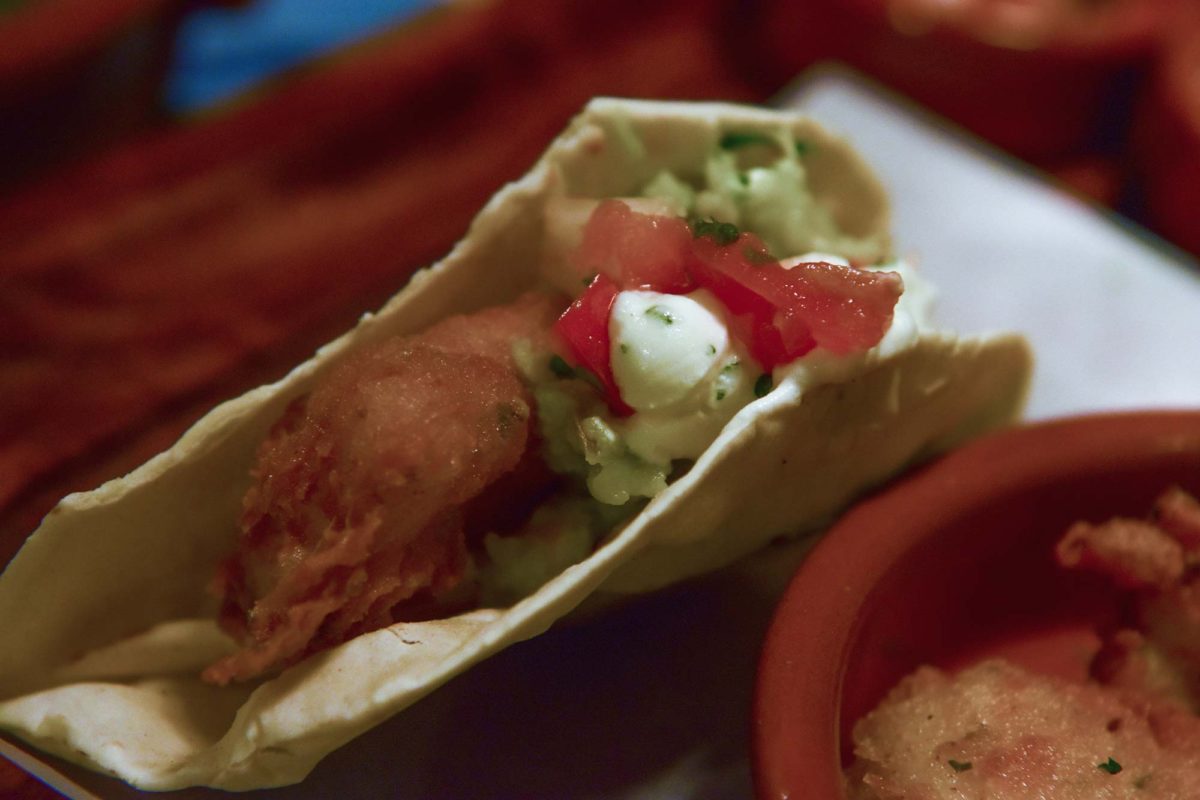 Pizza Bresaola e Rucola
Bresaola is air-dried, salted and aged beef of Italian origin usually served with rocket salad or "rucola" to accentuate the overall flavour. The combination of the two on a hand-tossed pizza at Loco was delightful. A safe option for the picky eater or young children – the pizza was satisfying and indulgent yet simple and to the point.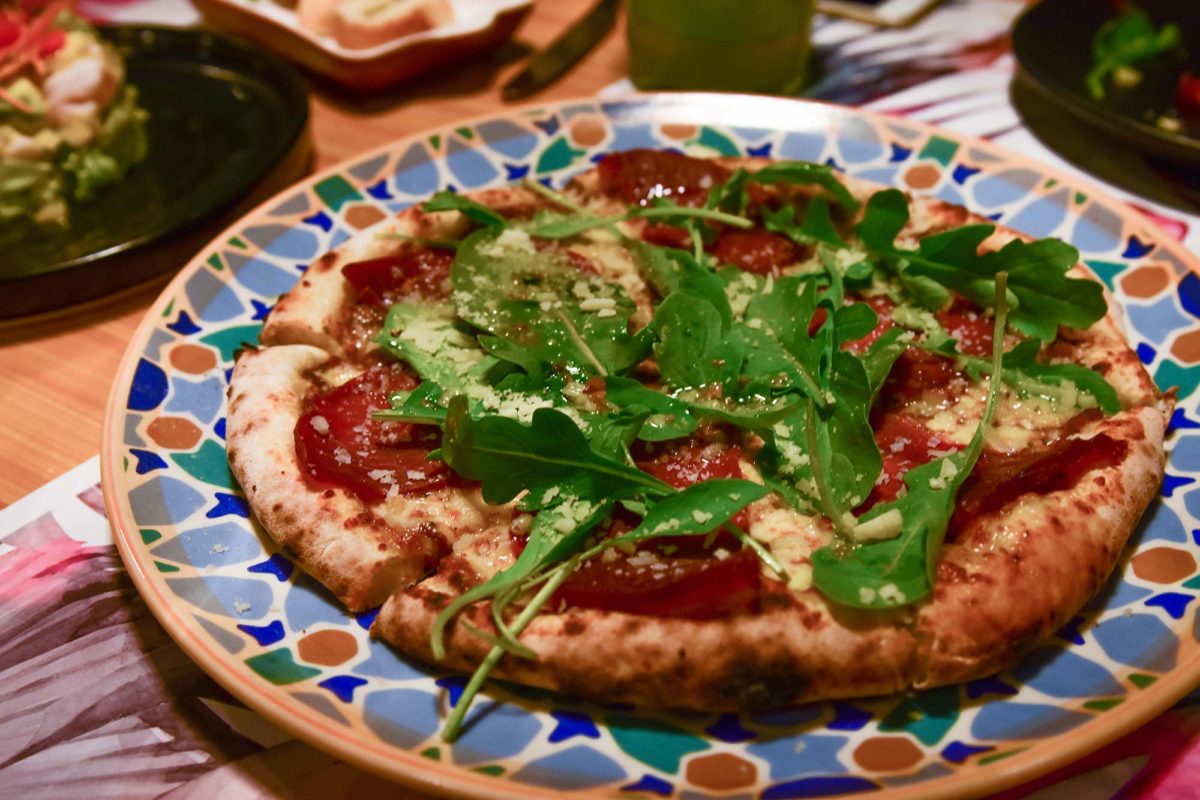 Churros with Hot Chocolate
One should always end their meal on a good note – lucky for us, we ended it on the best note with these churros. I was pleased that the churros were not too sweet, were fried to the perfect crisp and were accompanied by a thick, smooth chocolate sauce.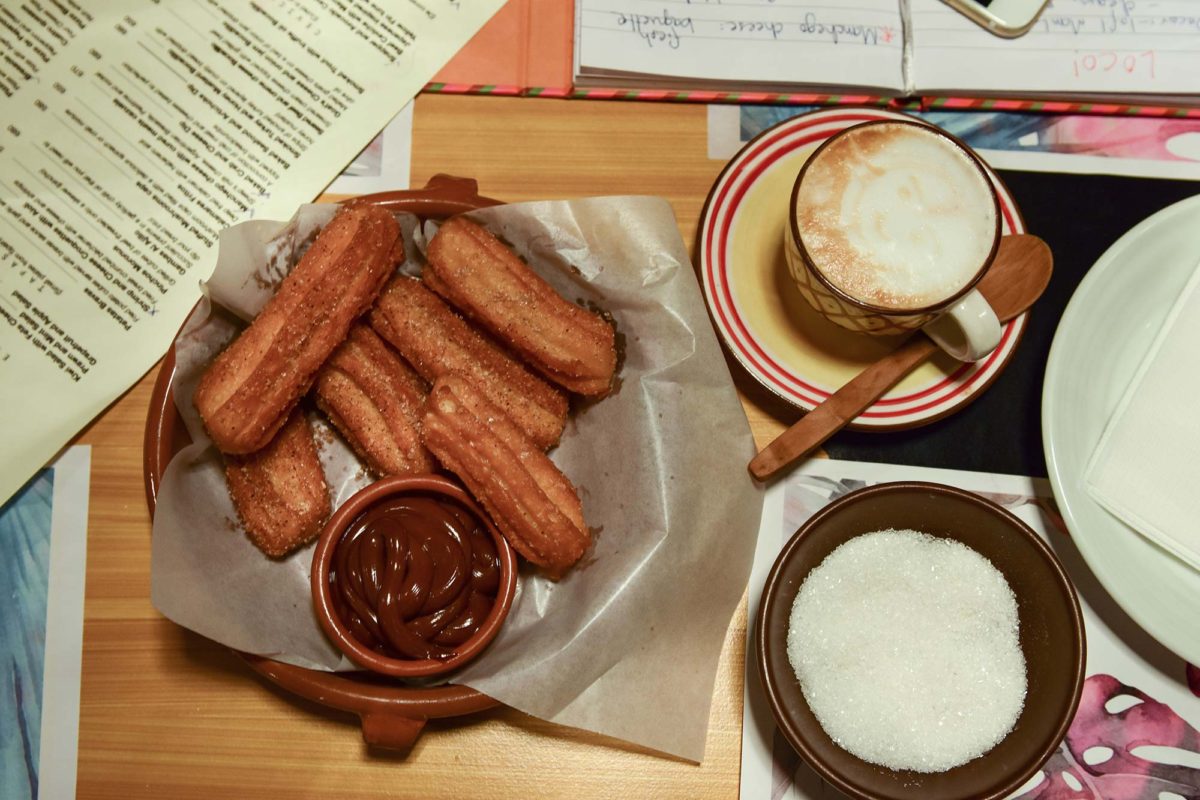 Cucumber & Jalapeno Margarita
This drink personifies the essence of Loco – eccentric, untraditional and bold! I was sold on the first sip. Nothing I say today can do justice to how I felt while sipping the margarita. We give it a raving two thumbs up!
Tomato & Peppers Gazpacho
A twist to the classic Bloody Mary, the drink had a bit of spiciness without being too overpowering, coupled with just a hint of sweetness from the tomatoes. One could easily tell that top quality tomatoes had been juiced to create this delicious concoction.