On Aug 14, 2020, the internationally acclaimed miniature artist, Imran Qureshi was conferred with the third highest honor and civilian award in the state of Pakistan: Sitara e Imtiaz (Star of Excellence) by the President of Pakistan, Dr Arif Alvi.
Recognized for his meritorious contribution to the field of arts, Qureshi's work has been displayed in distinguished art galleries across the world with solo exhibitions in London, Hong Kong and Paris. His work is also represented as part of permanent collections at prestigious art institutions including The Metropolitan Museum of Art, New York City as well as the Victoria & Albert Museum, London.
While using the floral design discipline, Qureshi's brush juxtaposes seemingly serene compositions with grave imagery, to reflect on the troubling conflicts that have plagued Pakistan from time to time.
A keen explorer and an avid traveler, Qureshi has cited travel as a source of inspiration in a previous interview with DESTINATIONS. Once again, we catch up with him on one of his latest journeys. As he makes a late-summer boys' camping trip to the splendid Upper Dir district in northern Pakistan with some friends and family, we see the artist navigating his way through the panoramic terrain and experiencing complete sensory optimization.
If you so happen to find yourself planning a trip up there, let Imran Qureshi's exclusive guide lead the way.
The Trip
We left Lahore at around 12 midnight and reached Palai (Malakand division) in almost 6 hours via the motorway. There we had breakfast at my friend Sajid Khan's. Took a 2.5 hours break.
Sajid is a talented young artist, and a good friend of mine who accompanied us on our trip to Upper Dir.
From Palai, we rented another vehicle- a local four wheel drive that came with its own driver. Some of us switched into that local vehicle. We drove to Thall.
Now from Thall, there is a diversion to two main areas in Dir- one way goes to Jahaz Banda, the other to Kumrat Valley: we first took the Kumrat Valley route and reached Kumrat between 5 and 6 pm.
IN KUMRAT
After reaching there, we looked for a spot for pegging our tents. We wanted a clearing that was not too crowded.
Tip: Most people had camped by the banks of the river, which was on the left side of the road. Luckily, we were able to find a very nice spot on the right side of the road, with our very own tiny stream gurgling by. That is where we camped.
The next day, we left for Dou Jungi, which is a further 2.5 hours drive up from Kumrat.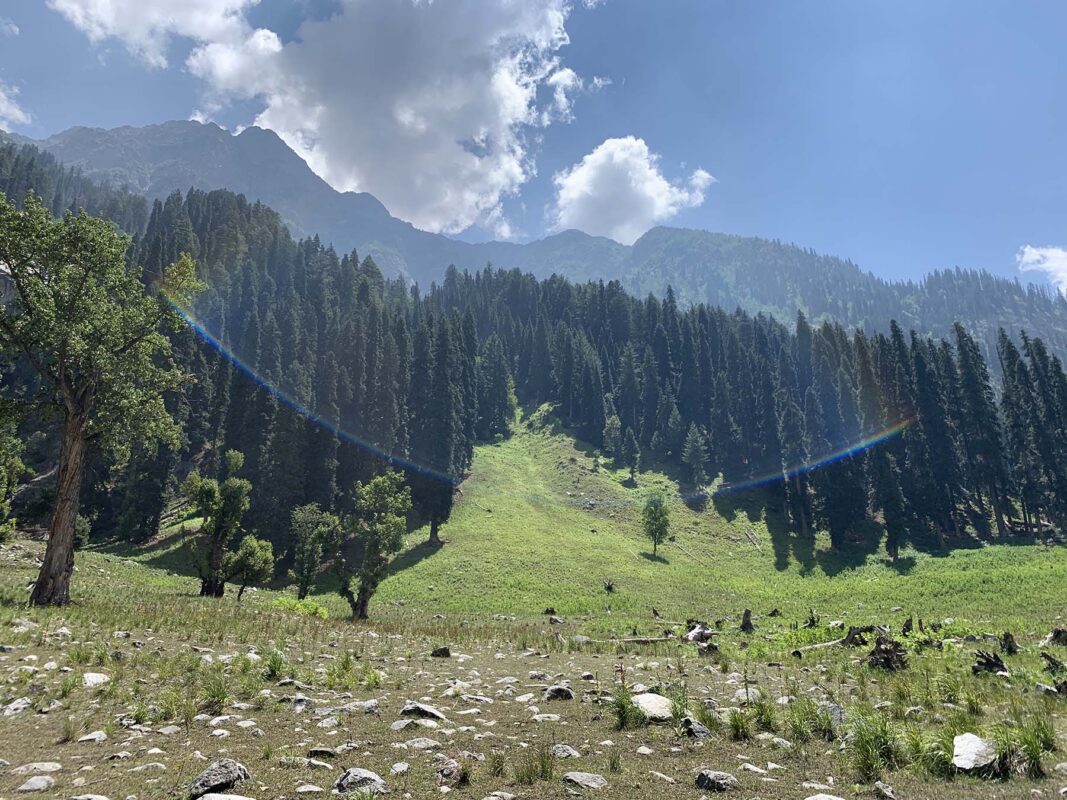 IN DOU JUNGI:
Dou Jungi was really pleasant. Quiet, surrounded by thick woods. Meadows that seemed to roll on forever. Streams that ran merrily as we camped by their sides. In fact, next time we go to Dir, I will go directly to Dou Jungi and camp there.
We set up our hammock here and swinging in it felt like floating through air. That day was something to remember.
The next day, we left Kumrat and in two hours, we returned to Thall.
Here we parked our own vehicle in the public parking and rented a four wheel drive from Thall. It cost us around PKR. 7000 a day (with driver) + fuel.
From Thall, it was a 1.5 hour ride to the base of Jahaz Banda.
Tip: Actually there are two bases. Many people were getting off at the first base. For going further up to the second base, you will need a four wheel drive. That's where we got off.
IN JAHAZ BANDA:
Here we found ourselves small ponies to load our luggage on, while we decided to walk it. It was not an easy walk. It felt great but it was quite an adventurous undertaking. We trekked for about 3/3.5 hours and met rain along the way.
When we reached the top, we saw camps crowding the scenic vistas. So we decided to move further ahead.
Once you reach the top, descent and until you reach a river with a small wooden bridge. Cross over to the other hill, that is where we set camp.
Rent for board here is anywhere between PKR. 1200-2000 for 2 nights. We paid 1500/ for 2 nights.
The premises we rented for setting up camp was the property of Hotel Yaaran.
EN ROUTE TO KATORA LAKE:
The next day, we started our trek at 8am towards Katora Lake and reached there by midday. This was a tough hike. We decided to move slowly, taking breaks along the way and enjoying the scenic route. There are no defined pathways. Sometimes you have to forge your own way but what helps is the view.
On our way, we came across a smaller lake eponymously titled Chooti Jheel (small lake). It was beautiful. A moment of serendipity.
Finally we reached Katora Lake and realized it was every bit worth the effort. Surrounded by mountains, the lake was even shaped like a katora (bowl).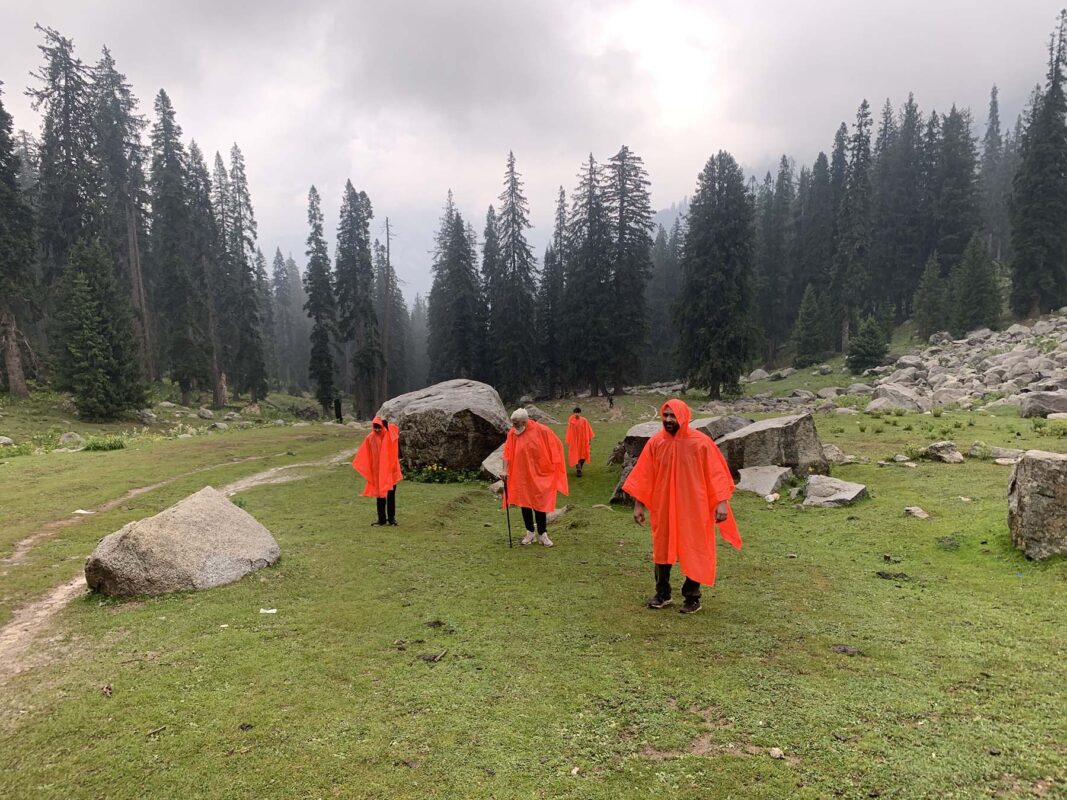 RETURN TO JAHAZ BANDA:
The hike back to Jahaz Banda was faster as it is all downhill. When we got back, it was dinner time. We supped and slept.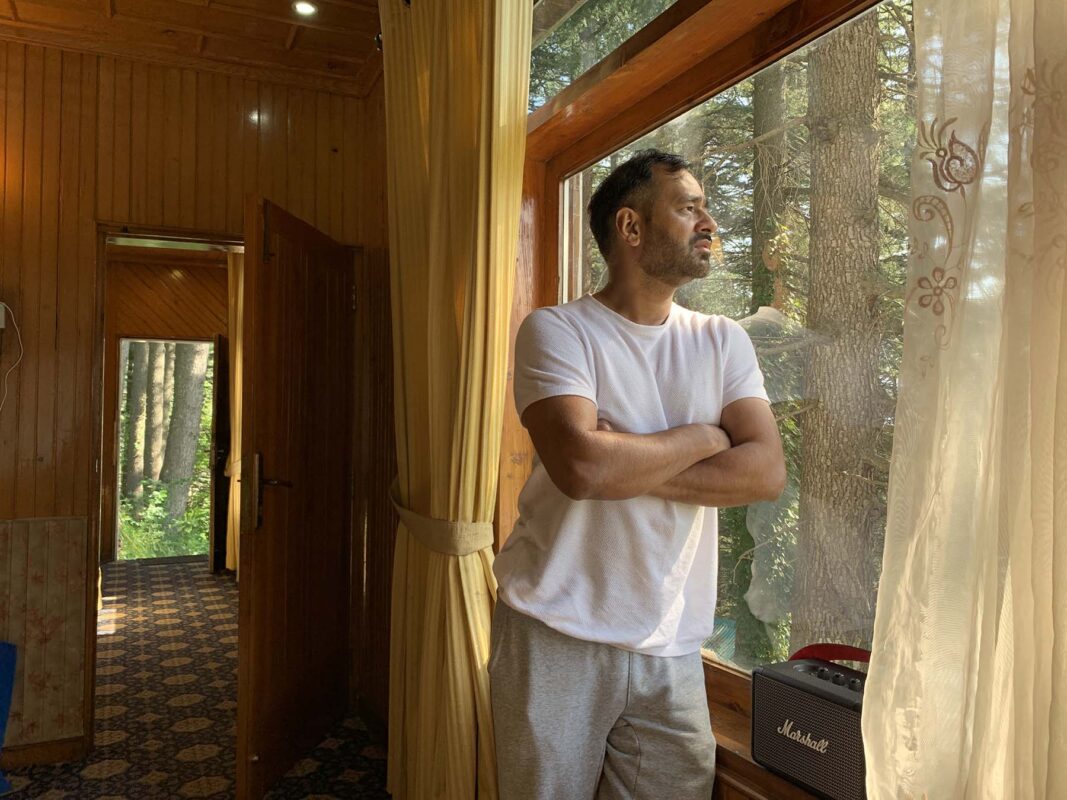 RETURN FROM JAHAZ BANDA HILLTOP:
For our return, we hired a few horses for the kids to ride on. They were super tired after the long and arduous hike to Katora Lake the previous day.
Tip: Each horse costs about PKR. 1000/1500 per trip. In our bid to help the local tourist industry, I feel we can even pay them PKR. 2000/ per trip. They make 2/3 trips back and forth a day and the time for tourism is limited. They are hard working folk.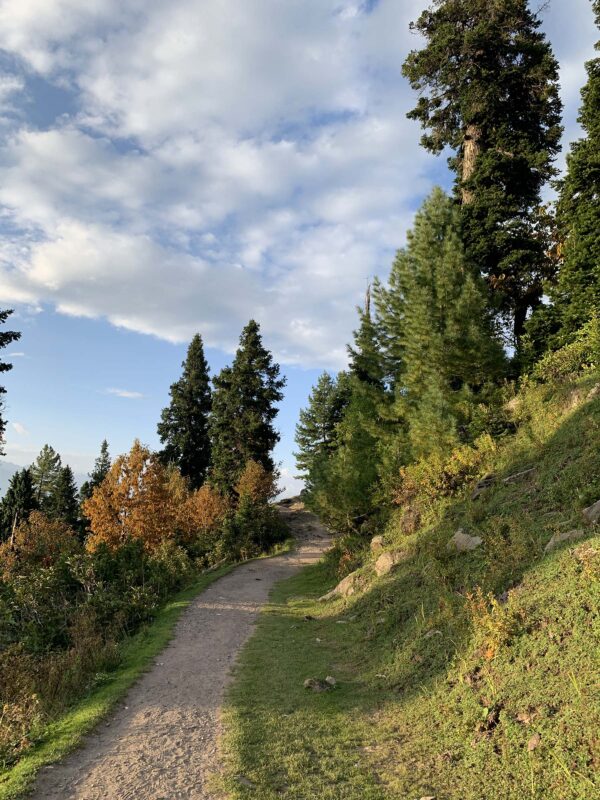 THE WAY BACK HOME:
From Jahaz Banda, we returned to Thall, returned the rental, picked our own vehicle, drove to Dir.
We finally reached Sajid's village, Palai, by nightfall; spent the night at his dera and in the morning, hit the motorway to Lahore. We reached home by 7pm.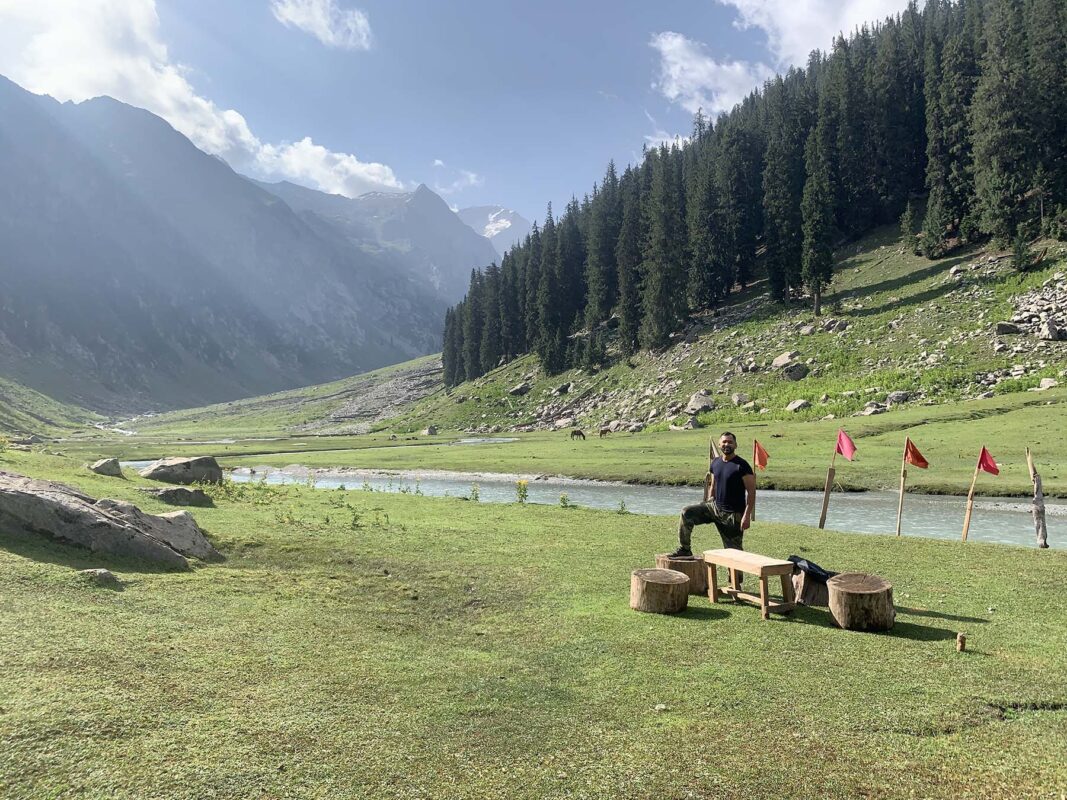 DIR'S HIDDEN GEM:
It's an inspirational place called Dou Jungi. Calm, peaceful; it is a place where you get to experience nature in its pure form.
Here we tied our hammock between the trees and everyone took turns swinging in it. Super relaxing; almost like floating. We could hear the birds sing in the woods and the clear stream bubbling past us. A total an immersive experience.
Tip: Dou Jangi is 2.5 to 3 hours drive from Kumrat. Hire a local 4 wheel vehicle, with a local driver because the roads are rough.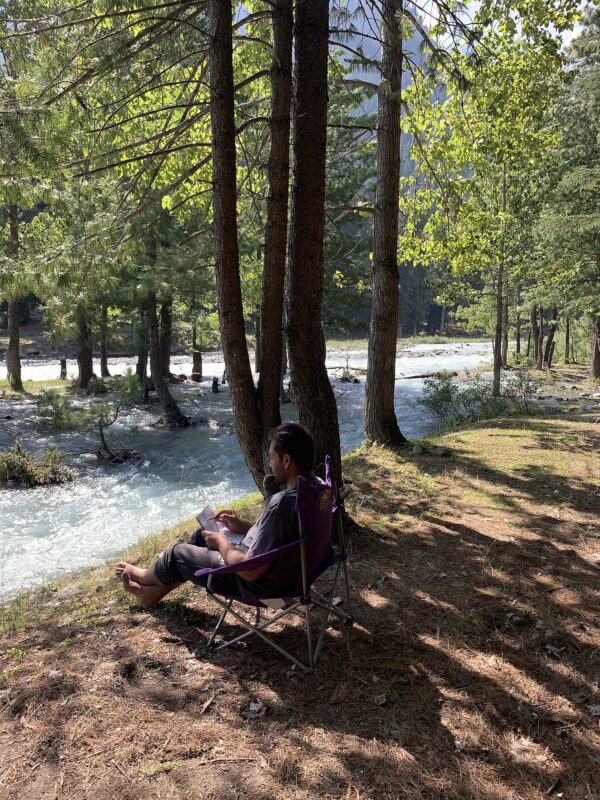 WHAT TO PACK:
We had our own:
Windbreakers (jackets)
Camps,
Folding chairs,
Hammock (I would say out of all the things we took, the hammock was the best. It was a smaller hammock made especially for traveling and camping trips therefore not too heavy to carry.)
Sleeping bags,
A DSLR camera,
Canned food as well as fresh fruit
Pre-cooked rotis (that were bought at a department store in Lahore)
LED torches
Lamps
Bluetooth speakers
A sharp knife for preparing firewood. The fun part was that in the evenings when we would return to our basecamp, the boys would collect twigs and fallen branches and we would have our own camp-fire going.
Ponchos were great too. They helped a lot when we hiked at Jahaz Banda, and it rained heavily. Umbrellas would have been. We had also packed wind breakers with us.
Mosquito repellents, and
Medical supplies- a first aid box, including paracetamol, bandages…
Tip: Umbrellas can get cumbersome during treks.

WHERE TO PURCHASE ALL THIS:
I bought all these things at Hazari which is located in Phase 4, DHA, Lahore.
Tip 1: as long as the Covid threat exists, camp on our own, take on your bedding. It's best to be careful and carry your own towels, pillow cases and sleeping bags. They range between PKR. 1000-10,000 depending on what you're looking for or can afford.
Tip 2: The mistake I made was, we bought warm sleeping bags. In summer, you wouldn't be needing such warm sleeping bags even up north. Buy medium sleeping bags.
Tip 3: When camping, sometimes there are pebbles that can hurt the back. So it's  Best to take yoga mats, foam sheets and then put your sleeping bag on that. I took a big sheet of Jumbolawn foam, had it cut in four. We rolled that up and used it wherever we needed to. Before heading home, we gifted it to the locals.
MEMORABLE EXPERIENCE:
The last night in Jahaz Banda (after returning from our trip to Katora Lake), I was talking to the hotel folk and they asked me if we had visited the waterfall, which is at the back of Hotel Yaaran. I said we hadn't and they insisted we absolutely must. So in the morning, my friend Sajid Khan, my son Ahmed and Adeel's son Dawood, and I, we made the steep trek down to the waterfall. It was a soothing sight.
And then we went further down, the whole valley was so quiet and peaceful. We spotted an old wooden construction of two bedrooms and attached bathrooms. I met the two old local Pashtoon men running that place. They told me they had camping facilities as well.
I would say, that was the highlight of the entire trip! Even my son Ahmed exclaimed "Dad, this trip finally feels complete."
We couldn't stay there for more than 30 mins as we were returning home the same day, but it  was such an incredible place, I feel I would go back just to be able to stay there for an entire week.
The river had a calm flow. The surroundings were green. My plan is to group together some artists for an art retreat there.
WORD OF CAUTION:
In Kumrat, people sometimes walk up to camping sites, claiming to be landowners and asking for rent. Make sure to know who the land belongs to before setting up your tents!
#SAAFDESTINATIONS:
When we reached Kumrat, I was really disappointed to see trash strewn all over and rapid hotel construction sites. I also felt the overwhelming number of camping sites were spreading too far and wide, without proper planning.
The next day, we got to Jahaz Banda. When we reached the peak after a strenuous trek, we were expecting panoramic views. Again we were disappointed. The camps were crowding the scenic vistas.
There was a beautiful water channel close-by that had been trashed. And plenty of hotel construction, again without any town planning it seemed. The paint on the hotels were also jarring against the natural beauty.
At Katora Lake too, it was such a magical place; a bowl-shaped lake surrounded by mountains but again, civic sense was lacking. Right at the best vantage point, a group of people chose the spot for cooking their food and littering the place with wrappings.
The sad part is that our future generations will not be able to experience the beauty of these destinations if we don't take care of them. There is no policing regarding litter, regarding the setup of camps/ cooking sites. Somebody should look into all this.