From crunching numbers on Wall Street to ruling the box office back home, Bilal Ashraf's rise to fame has been anything but ordinary. Meet the leading man of the upcoming Superstar as he talks all things movie-related – from filming on location across the county and discovering hidden gems to dancing shirtless and showing off his newly acquired six-pack.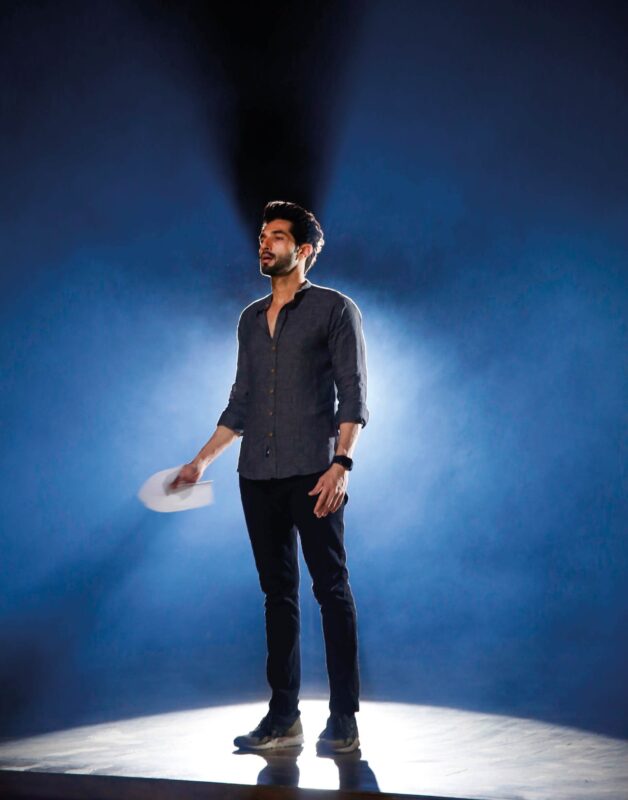 The first time I had to interview Bilal Ashaf, I cold called him. The year was 2015; he had just been signed on for his big screen debut, Janaan, and social media was abuzz with talk about the dimpled new actor from Karachi with chiselled good looks. He picked up the phone immediately and we proceeded to have a long, animated chat about everything from his life as a Wall Street finance whiz to his foray into the world of cinema as a tribute to his late sister, busting out the moves at many a Karachi wedding due to his love for dancing to industry politics. 
Over the past few years, this was how it usually went; the actor was approachable and easy-going, and always up for a long conversation, especially one that involved talking about his first love, the movies.
Quite a contrast from how things turned out this time around, for in true 'Superstar' mode, Bilal was in a hundred places at the same time; no longer just a phone call away. If a person's star power were to be gauged by the number of hoops one must jump through in order to get an audience, then things had clearly gone right in the course of the last four years for the actor – currently a man near impossible to contact. 
"He's on a flight to Dubai," "he's in the middle of a promotional tour", "he'll be dubbing all day today," his PR would respond with an apology. The conversation we finally ended up having was set up by his team, over WhatsApp, a mix of hurried chat notes and audio snippets, with the busy actor trying to get in a quick meal as he got ready to meet fans at a local cinema as part of his upcoming film's publicity tour. 
Those of you even remotely active on social media would know what's been keeping him on his toes (quite literally) these last few weeks – videos of him and Mahira Khan dancing together as they travel across the country to promote their new film have inundated the virtual world. The film in question is the highly anticipated Superstar, produced by industry heavyweight Momina Duraid and directed by Mohammad Ehteshamuddin, known for his hard-hitting drama serials such as the ground-breaking Udaari. With Azaan Sami Khan behind the music and the screenplay, the Eid-ul-Azha release is riding on a wave of high expectations, especially for its leading man, who returns to the big screen after a gap of two years.
Call him a movie star, though, and he gets visibly awkward. "I'm just a normal guy," he stresses. This hesitancy in acknowledging his current heartthrob/star status could be due to the fact that Ashraf began his film journey much later in life than your typical actor, and it commenced with a personal tragedy. Armed with a double major in Finance and Arts from
Franklin & Marshall, a liberal arts college in the USA, the Karachi native worked as a hedge fund consultant on Wall Street till 2009. It was his sister who inspired him to make the drastic change in careers.
 "She was a director and a staunch supporter of Pakistan. She convinced me to quit my job and take up a course in visual arts so I could assist her in her projects," he recalls. "She used to tell me, 'I want to see you in Hollywood.'" When she passed away in 2009, he took it upon himself to make her dream come true. "She wanted me to be an ambassador for my country. I'm doing this for her."
Read on as the actor talks about his upcoming Eid release, taking on the challenge to transform his physique and taking off his shirt in the bargain, discovering Peshawar's charm and being addicted to Karachi's buzz, and so much more…  
Why Superstar? What drew you to the project?  
I have to say that everything about the project when I first heard about it excited me – the cast, the director, the producer, the script, the music. Superstar is a complete package – there's romance, there's drama, there's dancing; I am hopeful that the audience will love watching it as much as we loved making it.
Eid is always a busy time at the box office; Superstar will go head to head with another highly anticipated rom-com Parey Hut Love? Does the competition make you nervous? The competition doesn't make me nervous at all. I say the more the merrier. I think this is a brilliant time to be part of local cinema. It's like making history; I know I will look back at this period 15 to 20 years from now with pride because I would have been part of the wave of filmmakers and actors who led Pakistani films into the global spotlight. I'm not just confident about my own film but all the other films that are coming out. I want all films to do well and make money at the box-office. Having said that, I feel Superstar will stand out because of its simplicity. 
After 3 releases in less than two years [Janaan (2016), Yalghar (2017) and Rangreza (2017)], it seems like you really took your time to sign on your next project. Was it a conscious decision to slow down and strategize your career choices more carefully?
I guess I was waiting for the right script to come along. And as far as decisions about my career are concerned, I really don't plan it out; there is no thought-out strategy. I think and choose from the heart. I pick the projects that I feel for; some work and some don't. Also, I took this time to enroll in acting courses in the UK and also underwent theatrical training with the brilliant Sunil Shankar of NAPA. It was a great learning experience.
The film shoot for Superstar has taken you all across the country – from Sindh to KP and Punjab. What was the most surprising revelation to you about Pakistan?
I was pleasantly surprised when I first visited Peshawar; the city has such a phenomenal vibe to it, the culture is amazing. There is so much history – from Buddhist temples, ancient forts and some of the oldest collections of relics from the Gandhara civilization, there's so much to see. Plus the amazing food and some of the most hospitable people in the world add to its charm.  Honestly, after Superstar, I've lost interest in the rest of the world as it's opened up my eyes to all the treasures that Pakistan has to offer!
You play a movie star in the film; did you draw on your own life for inspiration for the character? Will we see glimpses of Bilal in Sameer?
Umm, I don't know how to answer this question because to be honest, I consider myself to be like everyone else around me, and not a movie star. But in that Sameer comes from the world of entertainment, I guess I did draw from my life and my own experiences.
Whether it's learning to speak Pashto for Janaan or acquiring guitar-playing skill for Rangreza, you've taken on roles that have made you step out of your comfort zone. Will we see you doing something you've never done before in Superstar as well?
Well, I've never danced shirtless before! That's something that is definitely out of the ordinary for me. Working to transform my body naturally for that ripped look was a big challenge and I couldn't even complain during that one year of gruelling hard work, because it was my bright idea to begin with! I felt that having a fit body would add another dynamic arc to the character of Sameer. 
What did you have to give up to achieve that perfect six-pack form?
Everything! No junk food, no fried stuff and no sugar. As Mahira (Khan) has confirmed in her interview here, I was eating only boiled chicken on set. For someone who loves to cook and eat, it felt like a big sacrifice.
Was it worth it?
Absolutely! My amazing trainer Faisal Shafi and I worked hard to make the transformation happen naturally – no steroids, or anything harmful to the body. Just clean eating and a rigorous workout routine. The discipline and commitment needed to change my physique ended up changing my viewpoint, my entire world. It was a transformation not just of the body, but of the mind and the soul as well.
I've learnt the true meaning of the phrase, mind over matter. I hope to keep myself in a certain fitness zone even now that the film is over. In fact, that's another thing I'm working on now… launching my own fitness brand soon.
You've spoken of your love for dancing before; and you really get the chance to show off your moves in Superstar…
I've always wanted to dance in my films but nobody's ever given me the chance to. I'm just so glad that it has happened and it's been so much fun. There are so many different varieties that you will see in the film – from all-out masala numbers, to romantic dance songs and even theatrical dance performances. Nigah jee is the choreographer and he's fantastic… what a legend. I love dancing and I think Mahira loves dancing even more than I do. So you know, even when we were tired, she would come into the make-up room and lighten up the mood by dancing and getting everyone on their feet. In a nutshell, that's been the energy of Superstar… it's been fun.
What was it like working with Mahira? You two seem to share a very easy and natural chemistry both on and off the screen. Did you know each other before you began filming?
I was just talking to Mahira about this and asking her why people have been talking about our chemistry together; what was that chemistry, I wondered? And she summed it up for me; she said it's trust. And that's what shows. Whether it's us dancing together on promotion, or in our scenes in the movie, it's about being friendly and comfortable around each other. I'm glad people think there's chemistry because it is a romantic film after all and if a romantic film doesn't have chemistry between the lead pair, then you're pretty much doomed! Funnily enough, Mahira and I actually didn't know each other before this movie. We shot the film and we still didn't know each other… well, not much. It's only on the promotional tour that we've got to spend time together and become friends.
Are you going to take a (well deserved) break now?
I definitely need a break, for sure!
What's your favourite city in the world?
Karachi, because it's home. I love the smell in the air and the buzz that surrounds it. London, because I have been going there since I was a kid. I've walked a lot on the streets of London; it's a city that I love getting lost in. Paris, for its museums and culture.
What's the one thing that you love about Karachi? And one thing you wish you could change?
It's very hard to pinpoint but I think Karachi has this buzz, this vibe which I haven't felt anywhere else. Yes, it has its share of problems but I always keep coming back to Karachi. It's home, of course, but there's something more about this city. Its energy is addictive. If it has problems, it is our duty to try to fix those problems, rather than being the kind of people who only bring negativity to the table, instead of solutions. 
What's one thing about Bilal Ashraf that not many people know?
I love design and architecture and I've recently finished designing my own house in Karachi. I feel I have a good aesthetic sense and a good eye for colour.
What's next?
I've been wanting to produce more and I have a script in place so let's see if I do that or not.