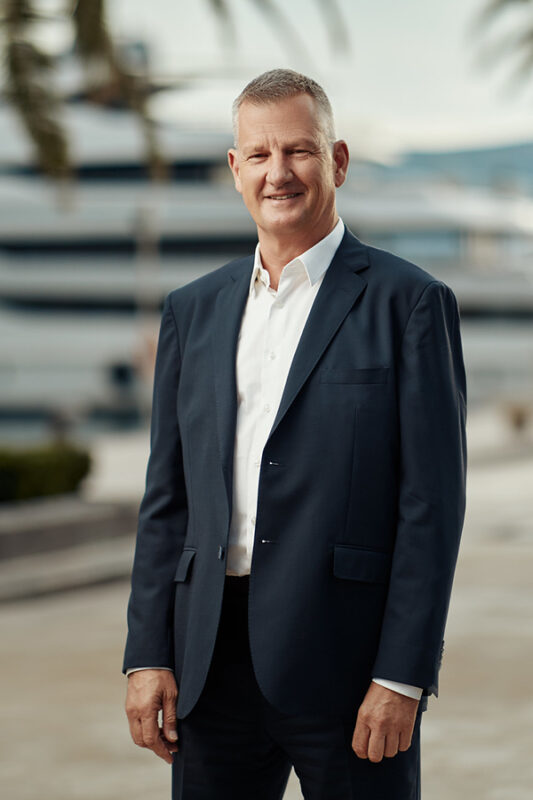 As one of the largest international investors in Montenegro, Porto Montenegro is introducing itself to the people of Pakistan via Montenegro's Citizenship by Investment Programme (CBI).
Montenegro's newest neighbourhood, Boka Place, qualified for Montenegrin CBI, offers a great investment opportunity to those, who are looking to acquire a secondary citizenship for ease of travel or are looking to invest for a better future. Read here as Brennon Nicholas, Director, Sales & Marketing Director, Porto Montenegro elaborates on how you can go about securing yourself a European passport to one of the continent's most luxurious destinations situated along the Adriatic Coast.
Briefly tell us about yourself and what you do?
I am the Sales and Marketing Director at Porto Montenegro, a superyacht marina and nautical village in the amazing Bay of Kotor, Montenegro. I have held senior management positions across both real estate agencies and development companies throughout my career, from southern Spain to the GCC region.I am fortunate to work as the Sales and Marketing Director at Porto Montenegro, superyacht marina and nautical village – and I'm lucky that I get to call Montenegro home.
I have worked in senior management positions in the real estate business and for development companies all over the world, but I must say no other destination has captivated me as much as here in the Bay of Kotor.
Tell us about Porto Montenegro as one of Europe's best-kept secrets.
I'm not sure, it's much of a secret anymore. We've been a first-class destination for many years now and we were the first marina in the world to be awarded platinum status – so I think the secret is firmly out there!
But yes, Porto Montenegro has a long and fascinating history. The Porto Montenegro project began when Canadian businessman Peter Munk purchased the Arsenal shipyard, a former naval base in Tivat in 2007. His vision was to build the finest superyacht marina in the world. He achieved top-level support and was backed by LVMH Chairman, Bernard Arnault, Russian oligarch Oleg Deripaska and Lord Jacob Rothschild. In 2018 the development was purchased by the Investment Corporation of Dubai.
Today it is a thriving community with every conceivable benefit and facility offering the highest quality of life for those of us who have made it our home.
I will never tire of the awe-inspiring beauty of our UNESCO protected Bay of Kotor. It's an amazing destination and, when combined with the spectacular lifestyle available, in my opinion it's one of the best places in the world to live.
The marina can berth 450 yachts and is surrounded by premium real estate for sale and rental, a shopping village and world class restaurants, bars and bistros. It's a safe community and there is always something going on – our social, sporting and cultural events scene takes place all year-round.
Recently, Porto Montenegro has introduced a great investment opportunity for international investors who are looking to acquire a secondary citizenship. Could you please elaborate.
Porto Montenegro introduced its newest neighbourhood, Boka Place last year which is envisioned as a pioneering, urban-inspired residential neighbourhood and creative hub. It will also be home to the new vitality and wellness hotel SIRO, a hotel by Kerzner International. Boka Place is compiled of 213 managed and private residences, ranging from studios to penthouses.
Buyers of the managed Porto Montenegro residences are eligible to participate in Montenegro's Citizenship by Investment Program, a scheme introduced in Montenegro in 2019. The program was introduced to encourage and facilitate foreign direct investment.
With a minimum investment of €450,000 and an additional €100,000 donation to a Montenegrin government development fund, successful applicants are granted full citizenship within six months of applying.
Buyers can secure single or multiple investments from the new Kerzner-Managed Residence portfolio at Boka Place to meet the CBIP minimum investment threshold.
There are many benefits to becoming a citizen but one of the key advantages is the right to free movement across the countries in Europe's Schengen area as well as Russia, Turkey and others.
How does one apply? Are there any special requirements?
To apply, the main applicant must be over 18 years of age, hold a valid passport, have no criminal record, and demonstrate that investment funds have been legally obtained. As I mentioned investors must make a €100,000 donation to a Montenegrin government development fund – which will be used to further enhance the country's infrastructure in the north, and a €450,000 investment in the government-approved development project, such as those in Boka Place. As well as the CBI program, investors choosing a bespoke waterfront property are eligible for residency by investment.
What are some of the extraordinary opportunities a citizen of Montenegro can avail?
Alongside the beauty and warm Mediterranean climate, Montenegro enjoys a low cost of living and personal and corporate tax is just nine per cent.
Citizenship also allows visa-free movement to 124 countries and we are an official EU candidate country with accession expected in 2025.
Nestled on the Adriatic coast, on the doorstep to Europe, Montenegro is blessed with a spectacular coastline. What are some of the most popular tourism activities visitors here often indulge in?
Montenegro is a remarkably diverse country. You can swim in the warm Adriatic Sea in the morning and ski in the snowy mountains in the afternoon. The scenery is both romantic and dramatic with lush green canyons, medieval villages, fortified towns and stunning beaches. We also have Europe's largest untouched pine forest formed by glaciers and home to bears, wolves and limestone lakes.
The water is where many activities take place – from boat tours and excursions to more active hobbies like sailing, deep-sea fishing, kayaking or diving. In the mountains you can walk, ski or try paragliding.
Sounds like the perfect place to energize and relax. With a superyacht marina and luxurious waterfront real estate, how does it support a waterside lifestyle?
Everything is based either on or near the marina and it's wonderful to see all the yachts in their berths. There are often parties or corporate events happening that add to the buzz and much of life here is enjoyed alfresco – in restaurants or walking through our promenades and open-air shopping complexes.
But while it is undoubtedly glamorous, there is also a genuine sense of community and all the facilities available – schools, sports, and health and wellbeing centres – add extra comfort and convenience.
 What are some of the cultural heritage aspects that Montenegro can boast of?
Montenegro is a country of extraordinary natural and cultural heritage. We have five stunning national parks, numerous fortresses as well as castles and monasteries that can be visited.
Ancient Montenegrin towns are dotted along the coastline and the Bay of Kotor holds the most significant number of preserved cultural and historical monuments in the country.
Montenegro is known to have multiple influences throughout history. How has it culminated in the emergence of a thriving urban destination where one can experience the finer things in life?
I think While Montenegro does have a strong history and cultural identity, it is also a very forward-thinking country. It's a safe and secure environment and the people who live here are warm and friendly and always happy to help.
There is a certain ease to living here, which is why we have seen so many people chose to invest in Porto Montenegro. The banking and tax systems are hugely advantageous and there is a general feeling of optimism in the air that comes from knowing the community will continue to grow and flourish.
As I mentioned at the start, I am lucky to both live and work in Porto Montenegro. It's a privilege to share my passion for our neighbourhoods with others when guiding them through their choice of investments. We like to say Porto Montenegro offers a life less ordinary – and you can't ask for more than that.