DrAbrarChaudhury is a climate finance research fellow at Said Business School at the University of Oxford researching on topics of global environmental change, climate finance, policy implementation, sustainable development and corporate purpose. Talking to DESTINATIONS on issues pertaining to climate change, he discusses in detail its impact on communities at the frontline of the crisis in Pakistan and how we can arm them better through tactical solutions.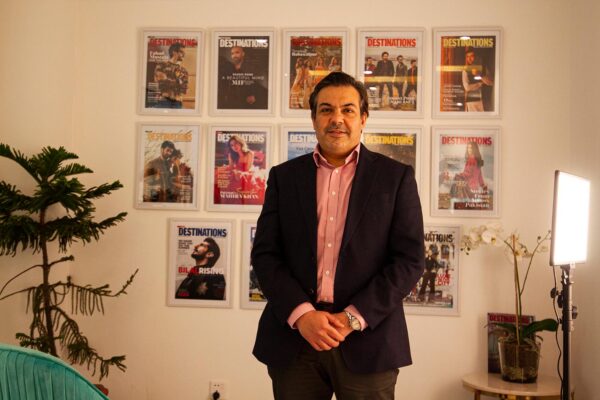 "ALTHOUGH ONLY CONTRIBUTING 0.9% TO GLOBAL GREENHOUSE GAS (GHG) EMISSIONS, PAKISTAN IS ONE OF THE MOST VULNERABLE COUNTRIES TO THE IMPACTS OF CLIMATE CHANGE"
DrAbrar, you have framed this period in time as a Climate Emergency. Can you please explain why climate action is so important and what steps we can take in order to mitigate the crisis.
I think, first of all, it's important to understand that when we talk about climate change, the general perception is that it's a phenomenon in the making. It is an element that is going to affect future generations. However, what most of us fail to recognize is that climate change is now! We are the first generation actually living through it. Notice the extreme weather patterns and climate conditions. Flash floods, prolonged summers, extreme heat waves… these are all happening now! That is why framing it as a "Climate Emergency" creates that sense of urgency that propels us to act now.
Q.This phenomenon of climate change has been taken note of internationally. For nearly three decades now, the UN has been hosting global climate summits- called COPs (Conference of the Parties). In 2015, the United Nations General Assembly put forward a working roadmap. A set of 17 interlinked global goals were designed to serve as a "blueprint to achieve a better and more sustainable future for all". These are the 17 Sustainable Development Goals or SDGs that are intended to be achieved by the year 2030. However, what steps can we take at an individual, societal and national level to tackle this?
So, here's the thing about climate change. As mentioned before, it's a global issue. Climate change doesn't respect national boundaries. It happens on a global scale and the change is universal. As a country, Pakistan is actively engaged in its efforts to scale down environmentalchallenges. Although only contributing 0.9% to global greenhouse gas (GHG) emissions, Pakistan is one of the most vulnerable countries to the impacts of climate change. Intense flooding, drastic change in rainfall patterns, melting glaciers, increasing cases of vector-borne diseases such as dengue, are all indicators of an overall increase in the frequency and intensity of climate-induced natural disasters.
Talking of the melting Himalayan glaciers, the mountainous north of Pakistan is bearing the brunt of climate change. Local communities in Khyber Pakhtunkhwa and Gilgit Baltistan are the most vulnerable to the disastrous effects of rising global temperatures. What can we do make these communities more resilient and increase their adaptation skills?
We must understand that climate is a grand challenge. It is a threat multiplier, and there is a fundamental inequality in how people are impacted, with the poorest and those less equipped to withstand climate shocks and stresses— essentially those who did the least to cause the crisis— bearing the worst brunt. Low- income countries suffer more than developed countries where there are insufficient resources to tackle climate change. The bad news is, there is no immediate solution or a single bullet to the problem. It is a complex issue requiring critical solutions at multiple levels. It requires many actors from the public, private, civil and academic sectors to collaborate. The approach has be a very holistic one. However, Pakistan's experience through Nature-based Solutions (NbS) in addressing the global challenges is a step forward in the right direction.
As listed in its Nationally Determined Contributions portfolio, Pakistan is making significant progress. Financing the rehabilitation of communities at the forefront of this crisis is key to equipping them to face climate stressors. More mountain districts have been added to the number of marked vulnerable areas in Pakistan's NDC document. These are the places where Glacial Lake Outburst Flooding has been affecting local communities the most.
Various efforts have been designed to help strengthen the resilience of communities that are likely to be affected by GLOF; from providing early warning signs to target communities, to scaling up monitoring systems, and deploying 250 small-scale engineering structures for reducing the effect of GLOF on local livelihoods. However, it is to be noted that solutions that engage local communities at all stages- from planning to implementation are the ones that actually succeed.
"FINANCING THE REHABILITATION OF COMMUNITIES AT THE FOREFRONT OF THIS CRISIS IS KEY TO EQUIPPING THEM TO FACE CLIMATE STRESSORS"
 DID YOU KNOW?
"THE AFFECTEES AT THE FRONT LINE OF CLIMATE CHANGE NOT ONLY SUFFER LOSSES TO PROPERTY AND LIVELIHOOD BUT CLIMATE ALSO IMPACTS THEIR MENTAL HEALTH AND THE FABRIC OF SOCIETAL LIVES."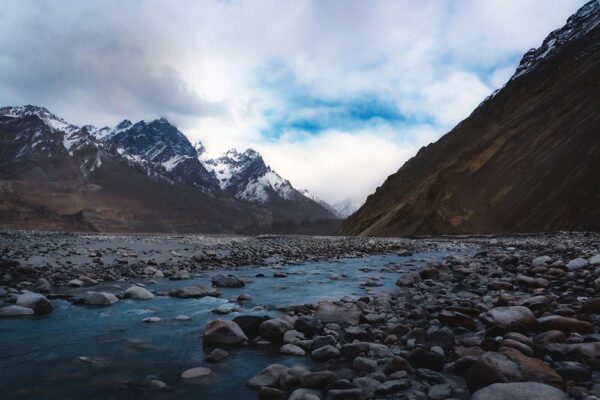 GLOF
Tourism in Pakistan is a growing industry. As a largely travel related media house, Destinations has been closely linked with it for the past six years. Here, we take you on a journey to Chitral to better understand the global phenomena that is GLOF (glacial lake outbursts flooding) so you can be a more mindful and engaged tourist when exploring and interacting with the local communities.
Although it contributes less than 1% to global emissions, Pakistan is ranked the 8th most climate vulnerable country by Advocacy Group Chairman watch. Pakistan is home to diverse global geographical landscapes, each of which faces its own unique climate challenge. There are 6 main climate related stressors.
 1) Changes in Weather Pattern
 2) Floods
 3) Glacial Lake Outburst Floods
 4) Drought
5) Heat Waves
6) Sea Level Rise
Within Pakistan, the areas which are most vulnerable are the northern areas of Khyber Pakhtunkhwa and Gilgit Baltistan. The affectees at the front line of climate change not only suffer losses to property and livelihood but climate also impacts their mental health and the fabric of societal lives. Pakistan plays host to the confluence for the world's 3 greatest mountain ranges, The Himalayas, TheKarakoram and the Hindukush. These reside between the provinces of Gilgit Baltistan and Khyber Pakhtunkhwa. 7253 known glaciers are situated between these mountains.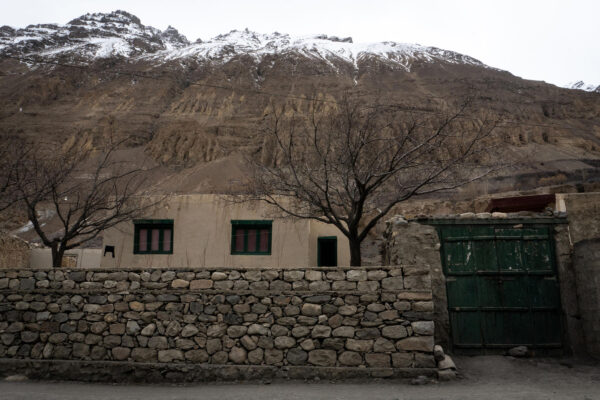 These glaciers feed rivers that represent 75% of the stored water supply in the country. Of these it has been assessed that 33 glacial lakes are prone to hazards of GLOF.
Rapid glacial melt due to climate change is causing increased water flow into these lakes making floods most often unpredictable.
Now, picture this an angry surge of water rushing down the mountains carrying ice and rocks along with as it heads downstream, it wipes out entire villages destroying human lives, homes, livelihood, energy and infrastructures, infact anything that stands in its way.
To minimise and mitigate these disasters, the ministry of climate change together with UNDP and Adaptation Fund has been developing a more inclusive and holistic climate resilience framework for the future. GLOF 1 was an institution created to teach GLOF affected communities about the risks and how to develop early warning systems.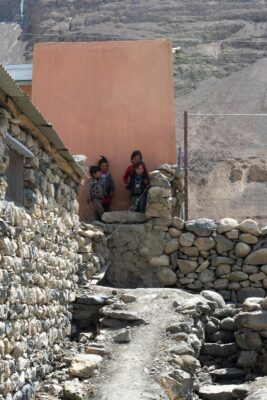 GLOF 2 builds up on the measures piloted by GLOF1 and aims to empower communities to identify and manage risk associated with GLOFs and related impacts of climate change.
Strengthen public services to lower the risks of disasters related to GLOF and improve community preparedness and disaster response as the planet continues to heat up nature will impact us that's why the time to take action is now!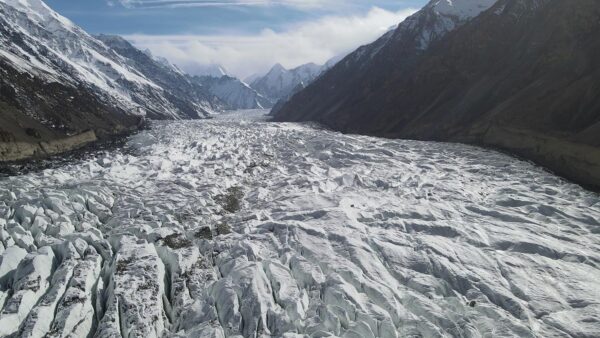 #SaafDestinations
As part of our ongoing commitment to highlighting the best of Pakistan, DESTINATIONS' latest initiative is #SaafDestinations, an awareness campaign around keeping Pakistan clean and green
 "How many city slickers have experienced a forest? The quiet hum, the fragrant breeze wafting through the herbs and shrubs, the leaves of trees pungent with their fruits? The sudden drop in the temperature as you step into the shade of a tree, the buzz of the bugs and the chirping of different birds?
 The way cities grow out, gobbling up green patches in the name of development, chances are that there may be an entire generation that has grown up without experiencing any of the above mentioned bounties."
Afia Salam
Journalist & Environmental Activist
How You can help:
Register now on afforestationlahore.com and join the Afforestation Lahore Movement!
Here are some ways you can contribute:
– Volunteer:
afforestationlahore.com/volunteer/
– Design a site:
afforestationlahore.com/design-a-site/
– Register a site:
afforestationlahore.com/register-a-site/
– Sponsor a nursery:
afforestationlahore.com/donate-for-a-plantation/
– Make a donation:
afforestationlahore.com/donate-for-a-plantation/
If you have more questions about the project and how to contribute check out the website for guidelines: afforestationlahore.com/guidelines/
Or email [email protected]