The furniture designer discusses his luxe aesthetic, his love for travel and his most prized possessions.
Arsalan A. Khan is the man behind KOHR, a luxury furniture and interior accessories brand established in 2014. Based in Islamabad, KOHR items are handcrafted by local artisans using the finest quality, locally sourced, materials from the north of Pakistan and Afghanistan. The brand has the distinction of exhibiting internationally at prestigious shows such as Decorex and House & Garden Festival in London, Salone del Mobile in Milan, MAISON&OBJET in Paris and most recently at Clerkenwell Design Week in London, where its unique products received a tremendous response. DESTINATIONS speaks to the talented young designer about his Pashtun roots, his inspiration and his favourite objects in his home.
Did you know even as child that you would take up a creative career? How did furniture designing come about?
Yes, it was always evident that I would be a creative. I loved art, and used to paint all the way till my A-Levels. I think art is the first expression of a creative person. 
Furniture design always attracted me – I saw a huge gap in Pakistan for furniture that is not only high design but at the same time functional. We have a lot of good replication in Pakistan, but not many people are designing. I decided that this was my path. And so I ventured off to Florence, Italy. At the Florence Institute of Design, I was exposed to all that is beautiful. It was a truly immersive experience, I lost myself and that's how I found KOHR. I am also the creative director for a design house named MKC, where I supervise very talented architects to create glorious residential and commercial spaces. 
What does 'KOHR' mean? 
KOHR means 'home' in Pushto and the Italian word 'casa' was the inspiration. KOHR was a homecoming for me, leaving Florence and coming home to create what I loved and share the joy of it with others. I have a proud Pashtun heritage, so the name made sense to me, and I just went for it. 
What is your core design philosophy?
My core philosophy comes from Italian radical design, when you actually take thoughts, emotions and experiences, and translate that into functional furniture. I always have a narrative for my collections. Having a narrative makes a particular collection cohesive and gives it a direction. Of course we do bespoke work all the time, but designing my collections is what I live for. It's a very "dear diary" experience for me, as the themes are inspired from my personal experiences in life – from what I see, touch, desire and imagine.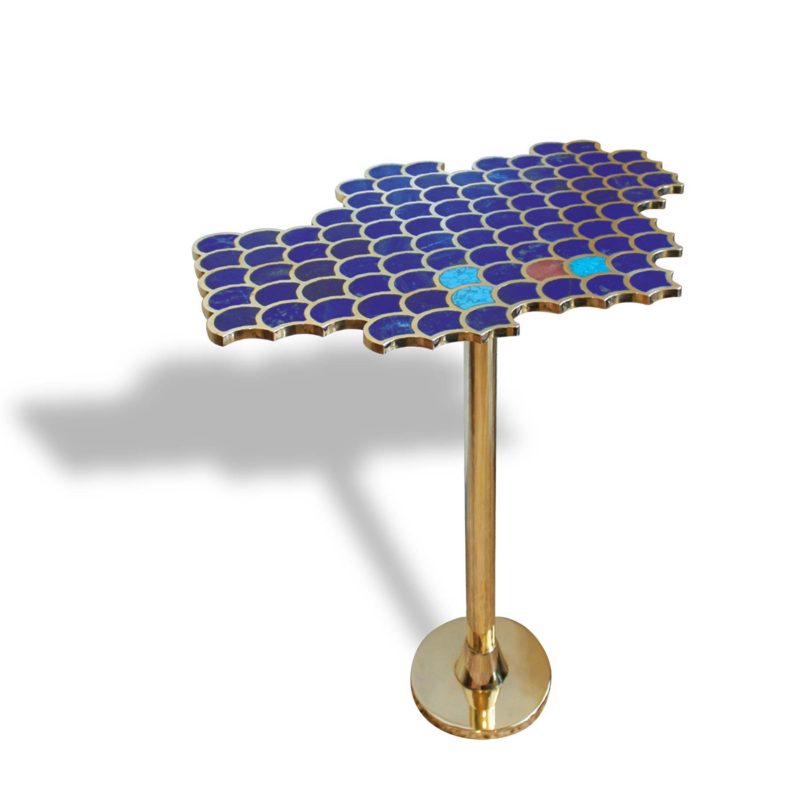 You use local materials and work with local artisans to create pieces with a very modern and contemporary aesthetic – take us through that creative process.
I have always wanted to give back to the community. That is the reason I came back and launched my brand. We have such a great abundance of raw materials in Pakistan. I source all the wood and gemstones that I use in my pieces in KPK, and other regions of Pakistan. 
I set up my factory in Peshawar city, as I found that the skilled labour available in that region was underused. They did not have enough work and had incredible skills, so I started to train them. I took my contemporary designs and their traditional skills, and started the process and birth of KOHR. The creative process happens in Islamabad, at KOHR's head office, now with a team of designers, who work on my vision to bring each collection to fruition. Our upcoming collection is named Allure, and is inspired by the mystics. 
KOHR has exhibited internationally at various prestigious shows. How did you break into the foreign market and what were some of the challenges along the way?
We have worked hard on this and been very lucky. We have been noticed all over Europe. Recently Grant Pierrus of the iconic blog Interior Style Hunter called our tables 'iconic'. That was a very proud moment. 
The main challenges for having shows overseas is the time and finances. It isn't cheap to ship out your goods to international destinations, and our government does not offer any assistance and grants. I say this because other governments do. I have met many designers at shows who have had assistance. We may have a very evolved fashion industry in Pakistan but the rest of the design fraternity is still very under recognized. 
You've shown frequently in London, at Decorex and the House and Garden Festival and most recently the Clerkenwell Design Week earlier this year. What sort of response have you received from the London market? Are you looking for a permanent stockist there?
The House and Garden Festival in Olympia was very well received by consumers, as it was more of a consumer based show. We sold out! This show left me hungry for the design industry in London, so I explored which show was industry heavy and it was CDW. Clerkenwell Design Week was truly amazing – I met architects, interior designers, builders etc. The appreciation for my work was overwhelming. Our statement piece, the Poseiden Hostess Table, soon became the most photographed piece at the show. This was a defining moment for KOHR. I remember closing my eyes and thinking 'KOHR has arrived.'
We are actively looking for buyers in the UK. I have a slew of meetings this September, and we hope to be available physically in the UK by the end of this year. We are however already available on a UK-based trade supplier's website; Eporta.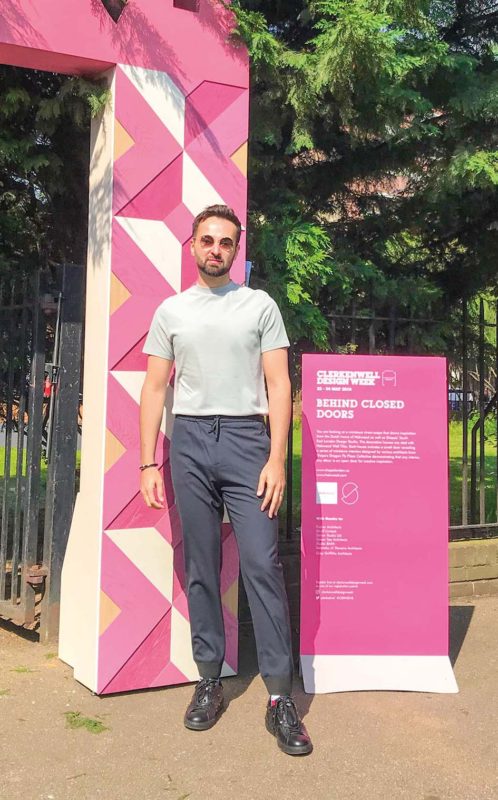 Do changing trends in fashion and art affect your work?
You will be surprised at how many times it's the other way around. Let me give you an example – millennial pink first became popular in interiors and furniture, after which fashion designers picked up on the trend. Visuals are what tell us what's in vogue, so yes, these trends affect my work, and vice versa.
Describe your ideal space in three words?
Modern. Luxe. Comfortable.
Describe your house. What is your favourite room in your house? 
My lounge space is my favourite space, as it's a personal retreat for me where all my thoughts and travels have come together. The room is my story. I too am made up of my stories, so shouldn't my space also represent all those moments? The coffee tables in this space hold objects and books that I have picked up from my travels, like little reminders of what I experienced. 
One of the central pieces here has been passed down to you from your grandfather… please tell us about that.
Yes, so I believe in preserving heritage pieces. I have a lot of pieces in my house that belonged to my grandfathers on both sides. They were both collectors. This particular piece, the black and mother of pearl chinoiserie bar, was originally a screen that was broken with some missing pieces, and I refused for it to die a slow death. My grandfather had bought it on his travels to the Far East. I took the broken pieces and breathed new life into them by creating a bar. Now it sits centre stage, and is loved by all.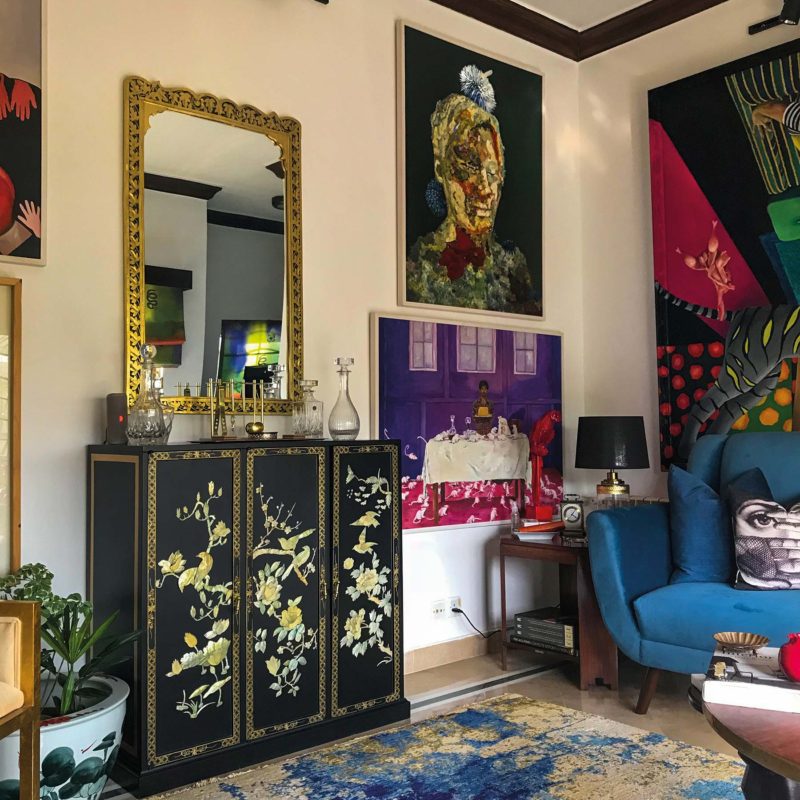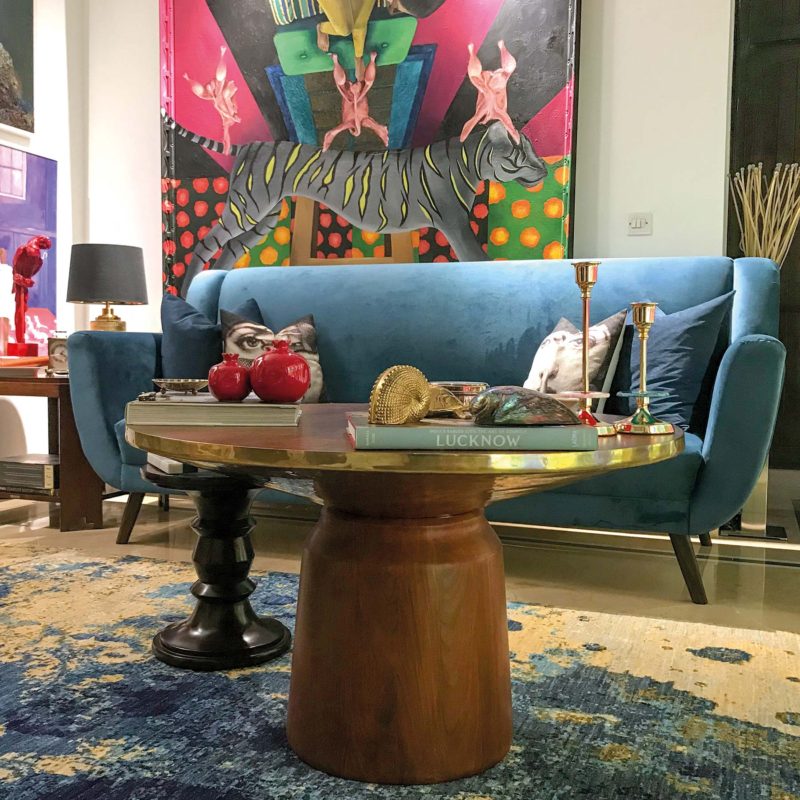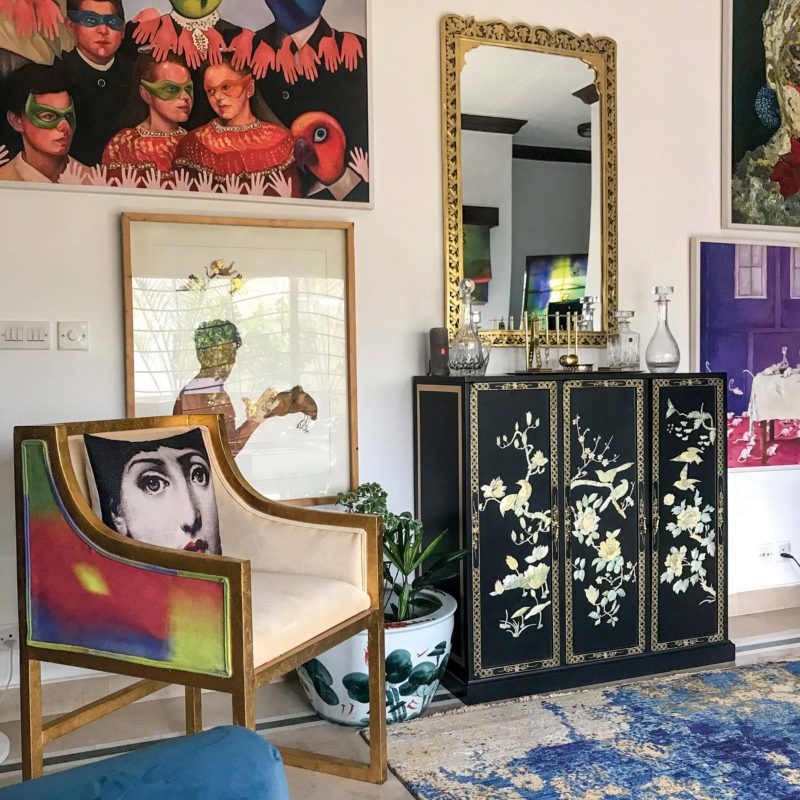 What is your favourite thing in your house that you didn't design? 
My paternal grandfather's gramophone cabinet, which I believe was bought in London when he was a young man. I managed to restore the cabinet; the gramophone still doesn't work, but it will one day, and then it will transcend time with the sound of glorious music. 
What is one of the most common mistakes that people make when it comes to decorating their homes?
Matchy-matchy is a NO NO for me. Also, a common mistake is thinking 'décor' means a trip to the market to buy expensive things like vases and bowls. Collect slowly, let each piece tell a story! 
Name an artist/designer who inspires you?
Gaudi. If only I could have an hour with him, sigh. 
How important is travel to your life and your work? 
It is the essence of my design; I must travel and experience to be able to deliver. Being lost in a gallery is a favourite past time of mine.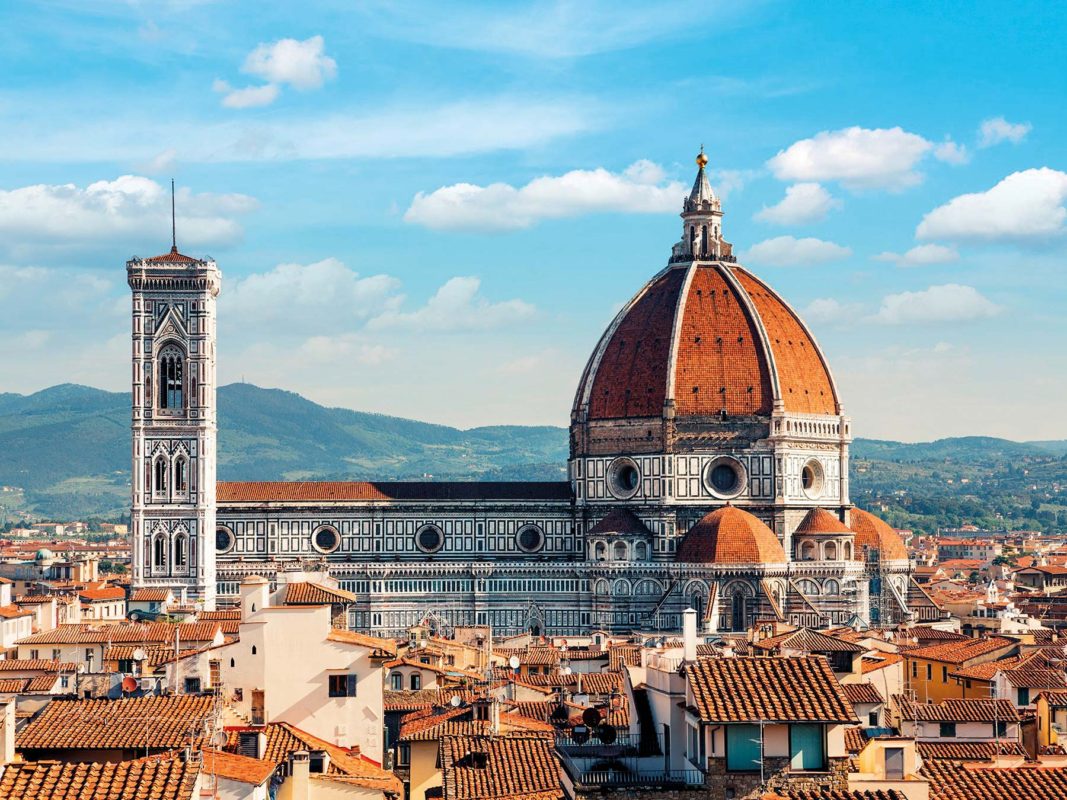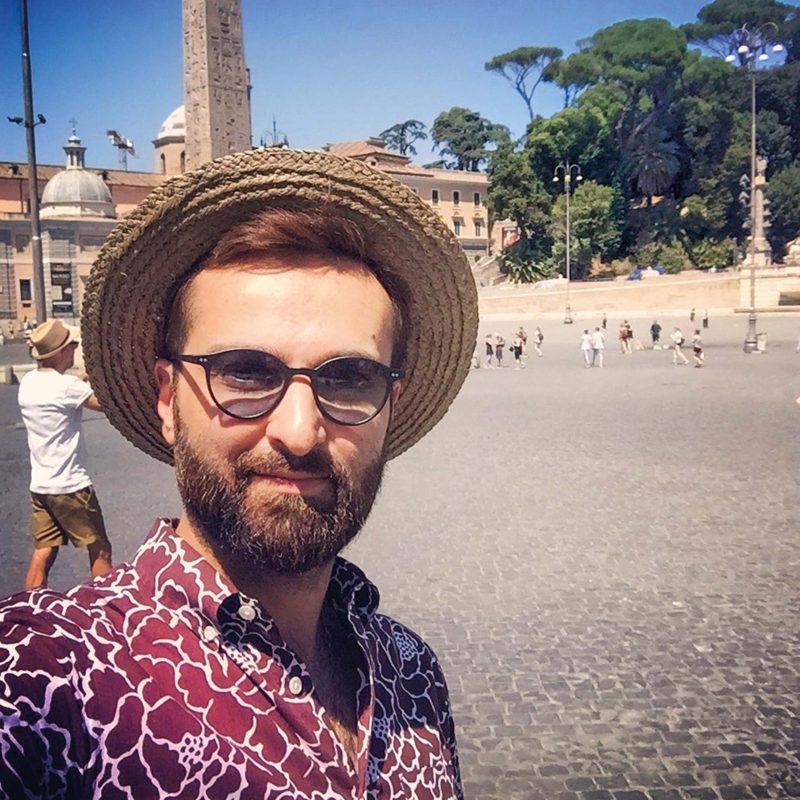 What is your favourite city in the world and why?
Florence. First, it found me. And then I found myself inside its magic. 
How do you unwind?
Listen to some music, paint, cook. 
What is your favourite thing about living in Islamabad?
The green environment, the clean air. 
What is at the top of your bucket list right now?
Backpacking in South America, to find myself again. Every decade we must challenge who we are!