Wildlife and nature – it's an important conversation to have. One that can no longer be differed or postponed. Different studies published in recent times have shown a sharp decline in the number of wildlife and non-human earthlings in existence today. These damning statistics have highlighted the urgent need for remedial plans and to gather a deeper understanding of where the problem lies. 
When we talk about the northern areas of Pakistan, let's not limit our imaginations to the idea that it is just the mountains there that are majestic. In fact, the true ideals of the beauty of Pakistan's north are inclusive of its diverse and indigenous wildlife. It makes us proud when we say, we are privileged to be home to one of the world's most elusive and mythical cats – the snow leopard.
An apex predator found in the mountain wilderness of the Himalayan and Central Asian regions, the snow leopard lives at an elevation of 3000-4000 meters above sea level. In Pakistan, this majestic cat is found in the Hindu Kush and Karakoram region of Khyber Pakhtunkhwa, Gilgit- Baltistan and Azad Kashmir. Recent studies published by the Snow Leopard Trust indicate that it has an estimated regional population of about 200 to 400 felines.
Due to the ever increasing global threat of poaching, climate change, conflict with herders and the development of mining and new development structures, snow leopards are an endangered specie with a global estimated population of only 2700-3300 individuals. In Pakistan, the human-wildlife conflict has led to a major shrinkage in their numbers. 
However, it seems that of late some positive developments have emerged in this regard. Research and analysis, as well as practical measures regarding the involvement of local communities in order to protect the snow leopard population in Pakistan is the silver lining of this narrative. We talk to two people who are actively involved with two different entities that are collaborating in order to protect this mythical creature from extinction. 
"I think sometimes we need to take a step back and just remember we have no greater right to be here than any other animal."  Sir David Attenborough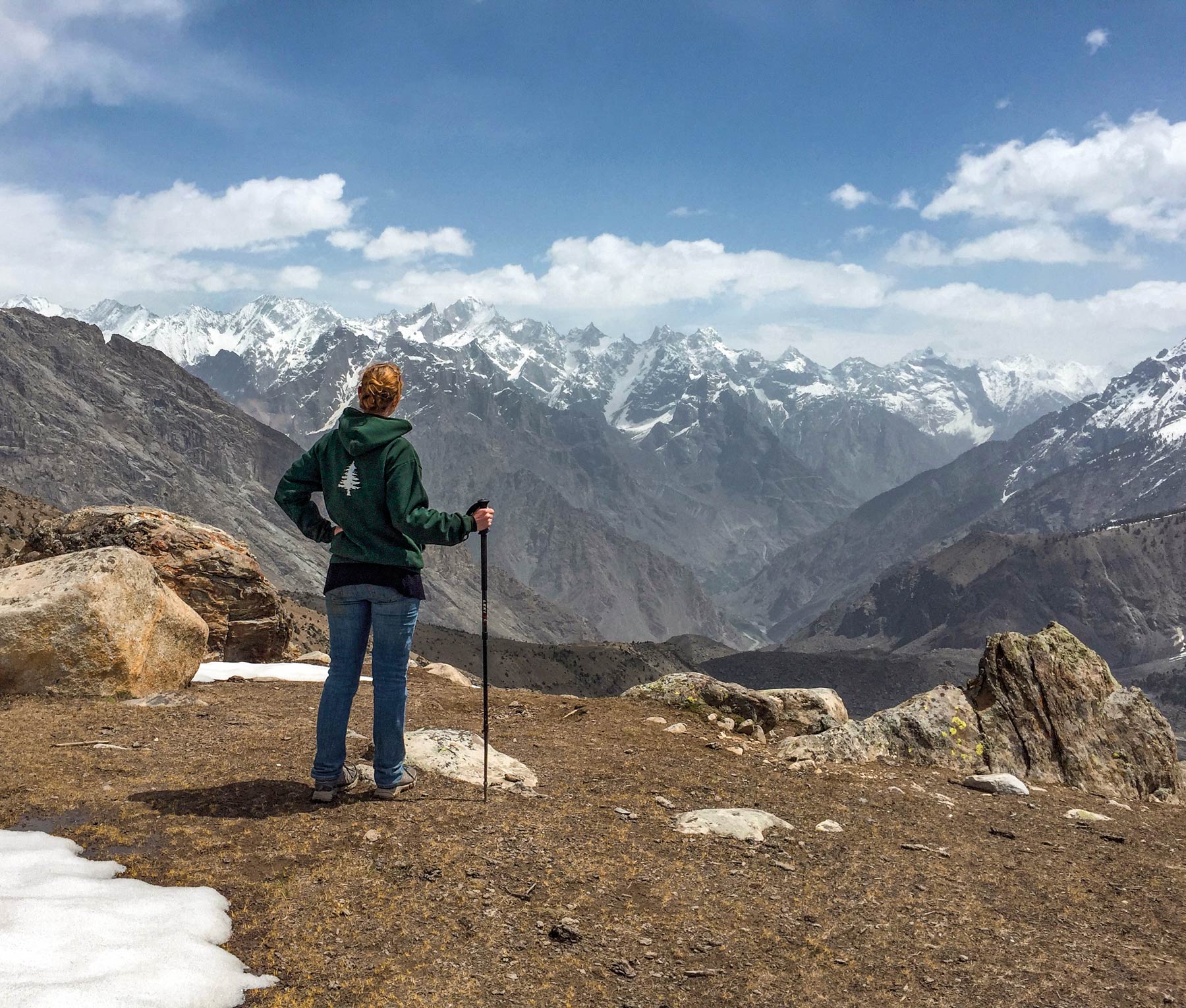 KATIE SIPRA: IN THE SNOW LEOPARDS LAIR 
In 2018, COMSATS University, Islamabad (CUI) and Baltistan Wildlife Conservation and Development Organization (BWCDO) signed an MoU (Memorandum of Understanding) for the purpose of collaboration on snow leopard data collection. Through DNA scans of scat (excretion) samples, the gender of the snow leopards and their genetic constitution can be deciphered. Additionally, it also helps provide an estimate for how many snow leopards there are in that area.
Katie Sipra is a scientific officer with the Biosciences Department at COMSATS University, Islamabad who is leading this remarkable initiative. It sounds like a daunting task, one that requires a great deal of patience and extreme attention to detail. Here, in an exclusive, she tells us  about her life in Pakistan and outlines what led her to initiate this ground breaking research plan. 
Hi Katie, kudos on this great initiative covering a field of study that could certainly use deeper information and updated research. World over, the snow leopards' conservation status is assessed as 'vulnerable' as per the International Union for Conservation of Nature (IUCN) Redlist of Threatened Species. Having studied scat samples for over a year now, what is your reading of the situation? Do you think the population of the snow leopards has stabilized in Pakistan?
So before we dive into the bigger question of their population size in the area, it it essential to understand the how and why of it all. First, we look at their habitat. Given the harsh and unique landscapes they inhabit, species like snow leopards, are highly specialized. However, being so specifically adapted to a certain habitat means that if that habitat changes, even slightly, those animals are less adapted and will have a harder time surviving. 
Therefore, wildlife conservation is a long-term issue. The scientific community has just recently developed the tools to properly study these elusive cats, so, the data is still lacking. That being said, there are definitely populations of snow leopards that are relatively stable – hence their IUCN Red List status being changed from "endangered" to "vulnerable." The issue with this is snow leopards inhabit some of the most extreme environments on Earth, making it difficult to make reliable assessments regarding an entire species.
New research spearheaded by Dr. Jan Janečka suggests there are three subspecies of snow leopard. If this new taxonomic categorization is accepted, each subspecies would be given its own IUCN Red List Status.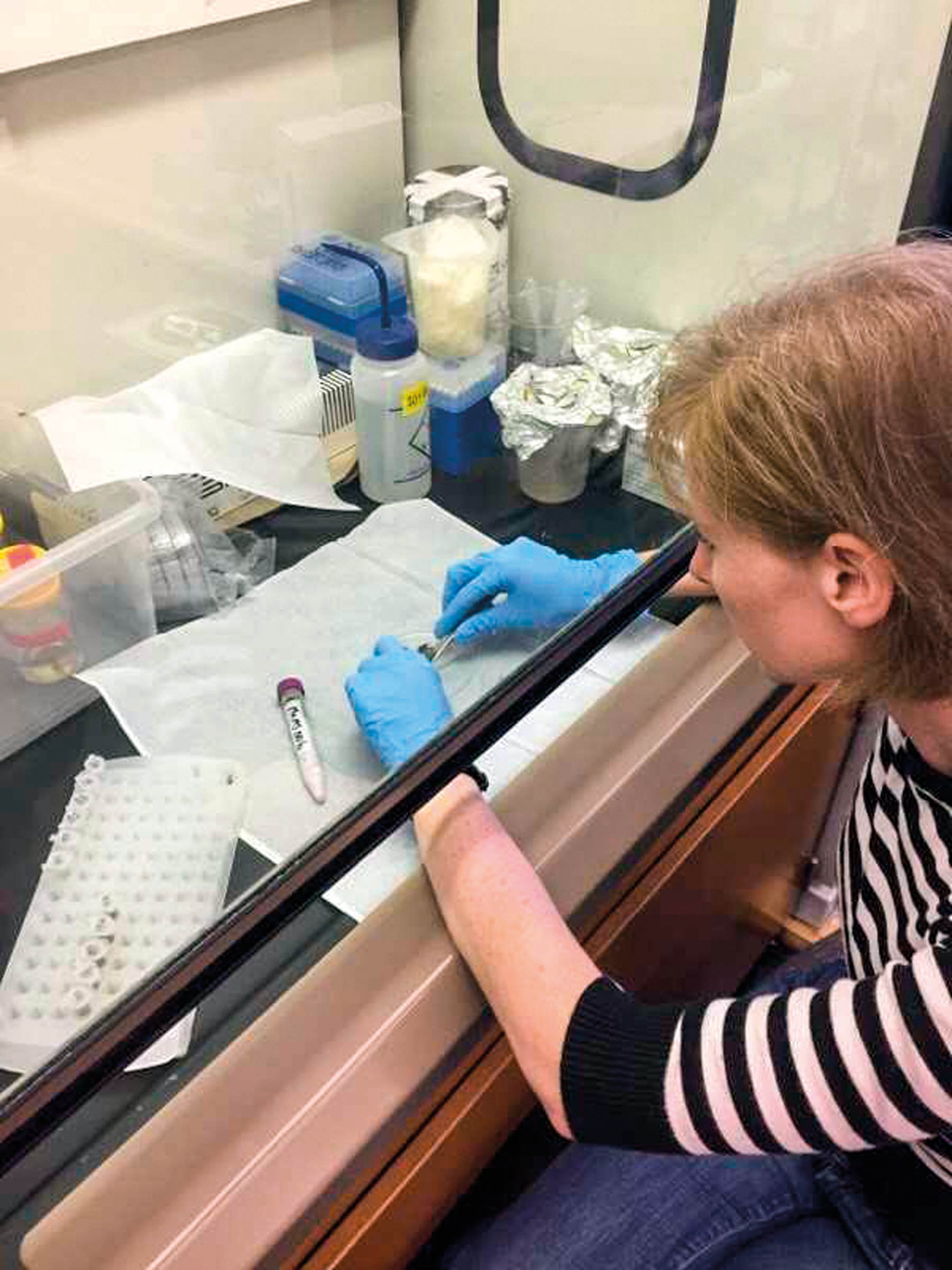 Although new information through research is becoming available all the time, it is not enough to make a general blanket statement about the status of snow leopards in the wild.  We know the threats to snow leopards – the biggest being human-wildlife conflict, specifically retaliatory killings – are many.
The organization I've partnered with, Baltistan Wildlife Conservation and Development Organization (BWCDO) has been working in the areas surrounding Skardu for the past 20 years! Thus, the information on this population of snow leopards reliably speaks to its stability. Genetic analysis shows this population as being stable at approximately 30 individuals. It has been estimated that Pakistan (KPK, GB, AJK) has between 200 and 420 snow leopards which gives it the distinction of having the third largest population of snow leopards in the world – tied with India.
As I eluded to before, just because populations seem stable does not mean snow leopards are in the clear. We must continue fighting to protect them and educate the people who share their home. Humans are encroaching into their habitat at an increasing rate, their livestock "take over" the grazing land from the wild goats and sheep leading to a drop in their numbers. Thus, without their wild prey, snow leopards predate livestock, which leads to retaliatory killings. But, why are people encroaching? Not only is the human population growing, due to climate change, the upper forest limit is becoming elevated – increasing grazing pastures and decreasing suitable snow leopard habitat. 
In short, there are populations of snow leopards that are doing well, but we must remember that this species is not in the clear and requires our constant support and help.
It seems you are passionate about animals and their welfare. Before coming to Pakistan, your work in Pennsylvania, America also involved working with animals. Any interesting memories or incidents that led you to choose this career that involved working with them. 
I was lucky enough to grow up in St. Louis, Missouri – home to one of the best zoos in the country, and world, for that matter. I grew up going to the zoo and learning about animals. As a kid, my favourite shows to watch were all about animals! I've always loved animals, in fact, my imaginary friend was a lion; thus creating an undeniable passion in me for the big cats.
My first job was at the zoo – I was a snack stand operator. While studying in college, I began to focus on wildlife conservation, recognizing it as essential to maintaining the diversity of life on Earth. 
After graduating with a Bachelor's in Biology and Environmental Science, I obtained a zookeeper position in the Children's Zoo at the St. Louis Zoo. The St. Louis Zoo highlights and supports conservation efforts around the globe. Yet, I didn't start hands-on conservation work until moving to Pakistan. A Yale University contact of my husband, Dr. Shafqat Hussain, established Project Snow Leopard in 1999 which was formalized as BWCDO in 2007. Knowing this, I initiated an MOU between his organization and COMSATS University Islamabad. Thus, my journey into snow leopard conservation began.
You moved to Lahore, Pakistan three years ago from the United States. And after about 10 months in Punjab's provincial capital, you moved to the federal capital city, Islamabad. Have you had a chance to travel away from these big cities in Pakistan and see the countryside or the mountainous north? If so, tell us about your trip and how the experiences was. 
I have ventured both into the mountainous north and the fertile countryside of the plains.
I was able to travel north to be part of a snow leopard scat survey that took place in April/May 2019 for about two weeks. It was fabulous! With Ghulam Muhammad, CEO-BWCDO, as my guide, I traversed the same steep and rocky trails used by the snow leopards.
Not only was it breathtakingly beautiful, it was a window into the life of a snow leopard. Reading and writing about snow leopard habitat is one thing, but walking it yourself gives one a whole new perspective on what it takes to live in these inhospitable climatic and mountainous conditions. These animals are incredibly well adapted! I can't wait for the day I can go back!
Other than that, my husband's family has a farm near Mandi Bahauddin which gives me an opportunity to learn about the importance of family life in Pakistani culture. It's nice getting out of the city and seeing several generations in one house, watching them interact and sharing in the love.
What do you like to shop for in Pakistan?
I love anything that is specific to a country, and you can't get any more local than handicrafts! That is why I enjoy going to Lok Virsa (even more if there's a festival happening). The items are all gorgeous and it is my go-to place when I want to buy authentic gifts for friends and family back in the States.
What are some of the places you've heard of in Pakistan that you would like to visit? 
The places of most interest to me, in general, are natural landscapes. I hope to get to explore more of northern Pakistan – potentially through an expansion of this snow leopard project.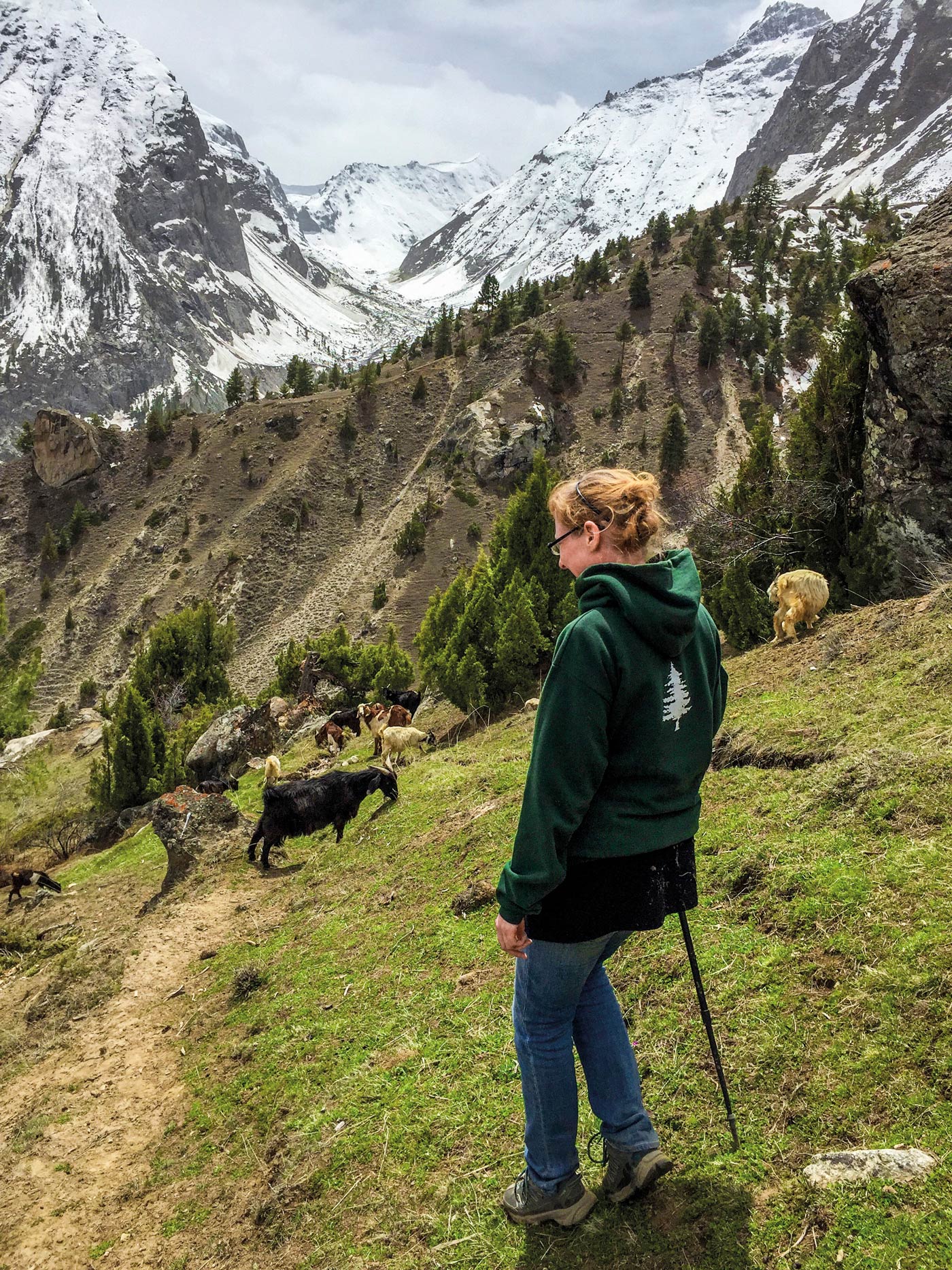 I've recently been told about the wonders of the Cholistan Desert, so I'd like to check that out. There is a Vulture Rehabilitation Center in Changa Manga managed by WWF that would be inspirational to visit. 
What do you think, are some of the best things to buy in Pakistan?
Shawls, and wooden furniture. The shawls in Pakistan are beautiful – I particularly like the embroidered styles. They are perfect for travel, too – easier to pack/less bulky than sweaters.
The wood work in Pakistan is incredible.I enjoy seeing hand-carved wooden doors.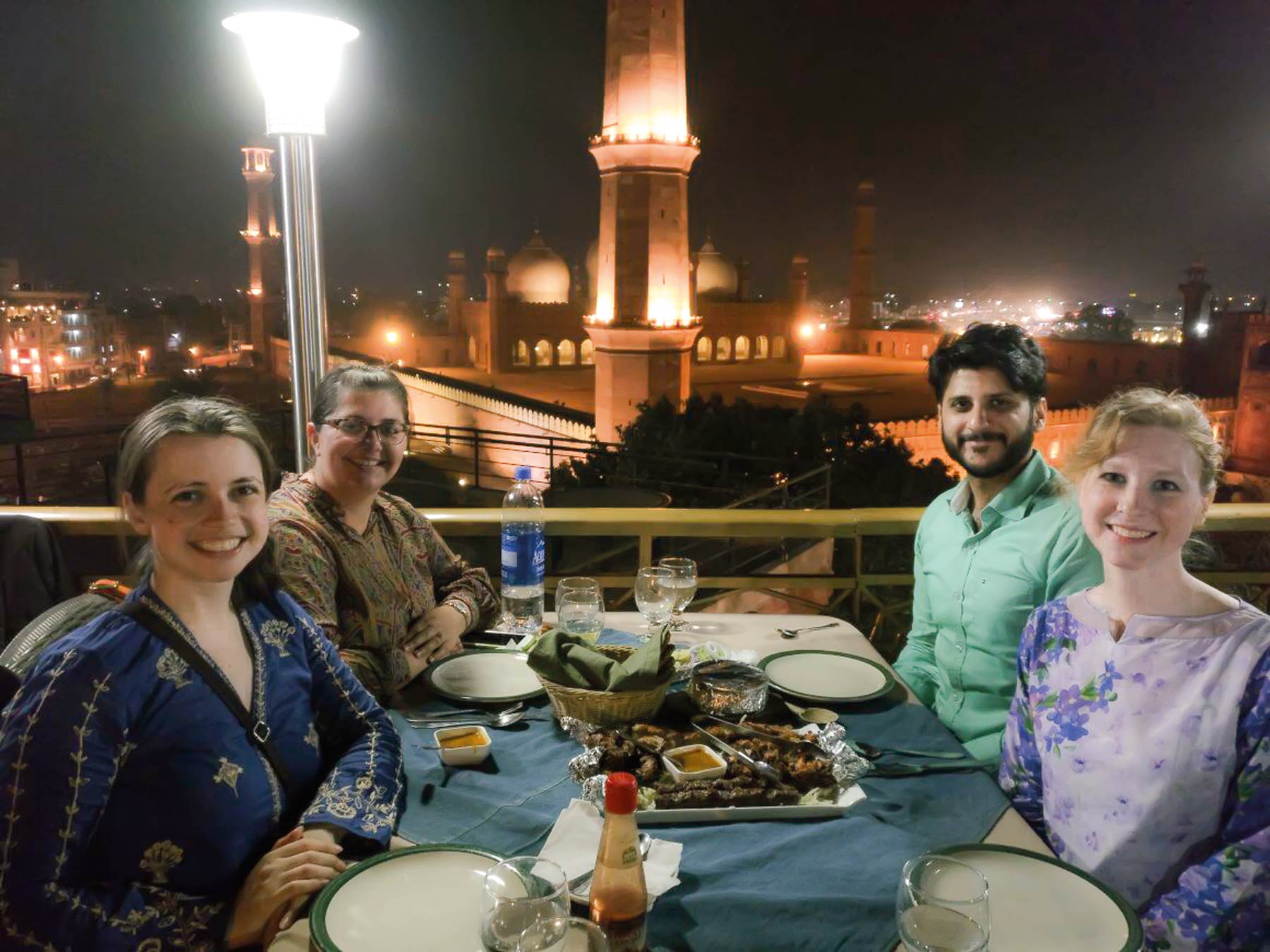 What do you like to eat here the most?
Give me gulab jamun, barfi, or patisa any day of the week! And kheer!
When it comes to "real" food, I enjoy chicken haleem and cholay. Also, although it isn't food, I can't get enough chai!
List some items you think are absolute travel essentials when traveling to the mountainous north?
When I travel north, I travel for scat surveys. Thus, my equipment is hiking related: clothes that can be layered, headlamp, walking stick, water bottle, hiking boots, sunscreen, warm socks, gloves, a wide rimed hat, and, of course, shawls.   
Yet, you obviously don't have to be doing research to travel to the mountainous north! Any traveller would be wise to bring sun protection – hats, sunscreen and most importantly, never leave home without a shawl.

GHULAM MUHAMMAD: PROJECT SNOW LEOPARDS 
Pakistan is home to the third largest population of Snow leopards. With an estimated regional population of 200-400 felines that are found in the country's mountainous north, it's population size was in decline until active measures were taken to ensure a stabilization of their total population number.
In 1999, Project Snow Leopard was formed. With a vision to protect the snow leopard population through community involvement in Gilgit-Baltistan, it later evolved into what is now known as the Baltistan Wildlife Conservation and Development Organization (BWCDO). Here, their dynamic CEO, Ghulam Mohammad discusses the positive impact of their award-winning organization since its inception two decades ago, via multiple success indicators.
Tell us a bit about the project, the vision behind it and your involvement with it.
The Baltistan Wildlife Conservation and Development Organization (BWCDO), formerly recognized as Project Snow Leopard, is a non-profit organization, that intends to conserve and protect the biodiversity in wildlife, particularly the snow leopard population in Gilgit-Baltistan, Pakistan.
We have undertaken various interventions jointly with local communities in Hushay, Basha, Thaly, Basho and Khumra valleys such as livestock vaccination, corral improvement, livestock vaccination scheme.
These interventions have shown substantial results not only in wildlife conservation and but also the socio economic uplift of marginalized communities. BWCDO is amongst the 15 organizations across 120 countries of the world who were awarded the Equator Prize in 2017 during the 72nd session of the UN General Assembly. This the first time in the history of United Nation Development Program that an NGO from Pakistan received this prestigious Prize!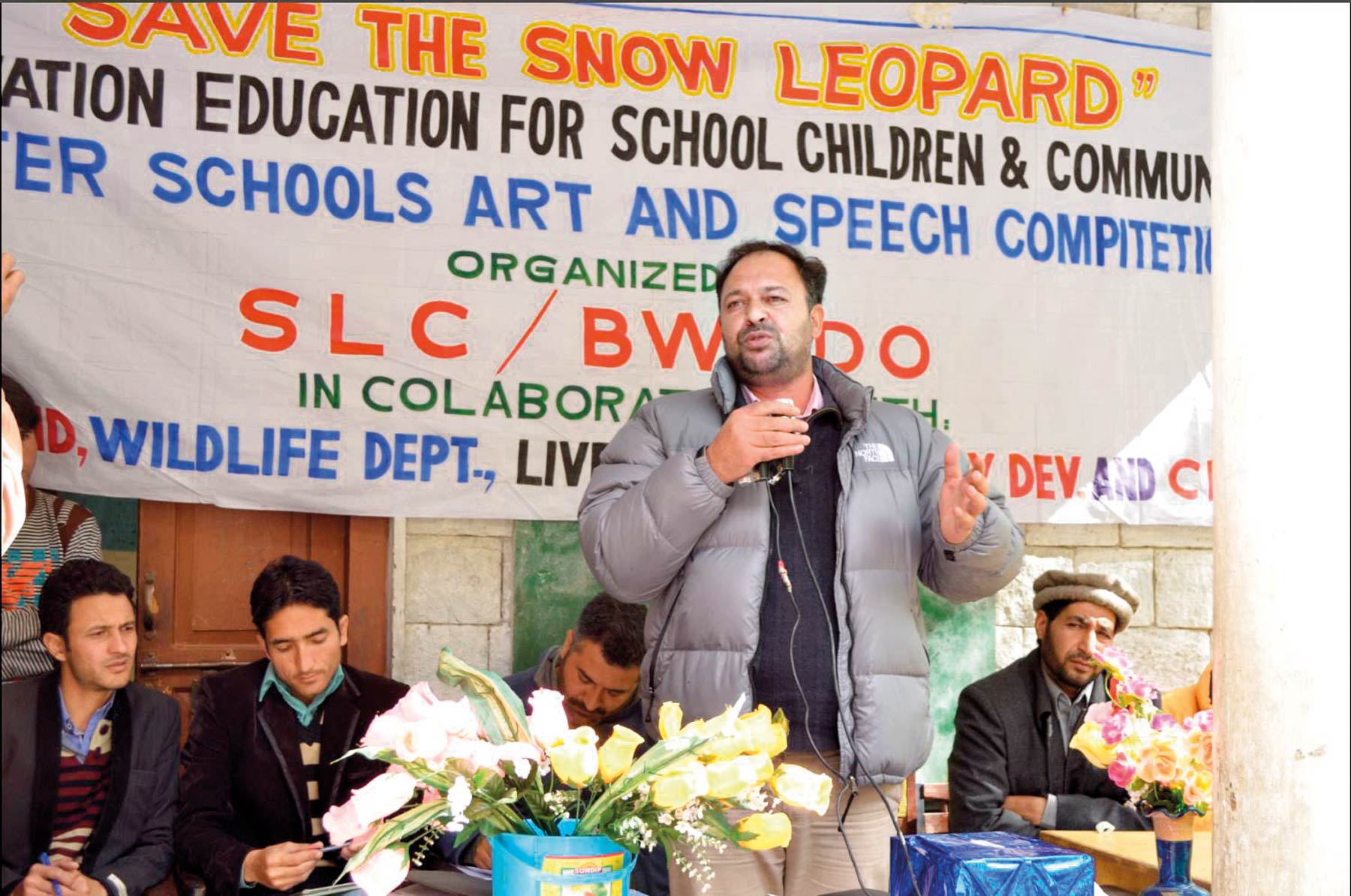 What measures can be taken to involve local communities to not only protect and conserve the population of snow leopards but also develop compassion for the environmental wellbeing of their area. 
Promoting a sustainable ecosystem to maintain the equilibrium of wildlife through conservation endeavors in biosphere reserves will eventually lead to success in the overall improvement in the environmental condition of the region.
Local communities must be given the education to learn the importance of preserving nature. By doing so, we are arming them with a sense of ownership over their land and its resources. Currently, many area-residents depend on forestry and wildlife for their livelihood but when we divert their focus to contribute actively in safeguarding these same natural resources, it helps in countering hazardous climate changes and prevents degradation of land in concerned areas.  
With a growing population and more herders from all over the country every year bringing in their livestock for grazing, what measures are being proposed or taken by BWCDO to curb encroachment and curtail shrinkage of the area of the snow leopard habitat?
Considering the food and nutritional needs of the people of the area, livestock rearing is vital for these remote mountain communities. On the other hand, yes it is also necessary to manage grazing practices in pasture to sustain pasture resources for long term use. So you can say, it is work in progress.
What indicators would determine the success of the Baltistan Wildlife Conservation and Development Organization (BWCDO) over the past two decades. 
BWCDO was the first NGO in the world to start a community-based livestock insurance scheme against snow leopard predation. The project is instrumental in highlighting the socio-economic cost of snow leopard conservation, and has had 
a deep impact on how the international community perceives human-wildlife conflicts.
In addition, BWCDO's work directly contributes to the achievement of several Sustainable Development Goals (SDGs). For example, our insurance scheme, the construction of predator-proof corrals, and the vaccination campaign are activities in line with the goals of no poverty (SDG 1) and life on land (SDG 15). The latter is also promoted by their monitoring of snow leopard populations.