From traversing Norway's breathtaking fjords to sampling Turkey's eclectic art and culture, playing tourist in London to soaking up the sun in Chitral's lush valleys, our favourite travellers share a glimpse of their fabulous summer holidays.
IN THE LAND OF THE VIKINGS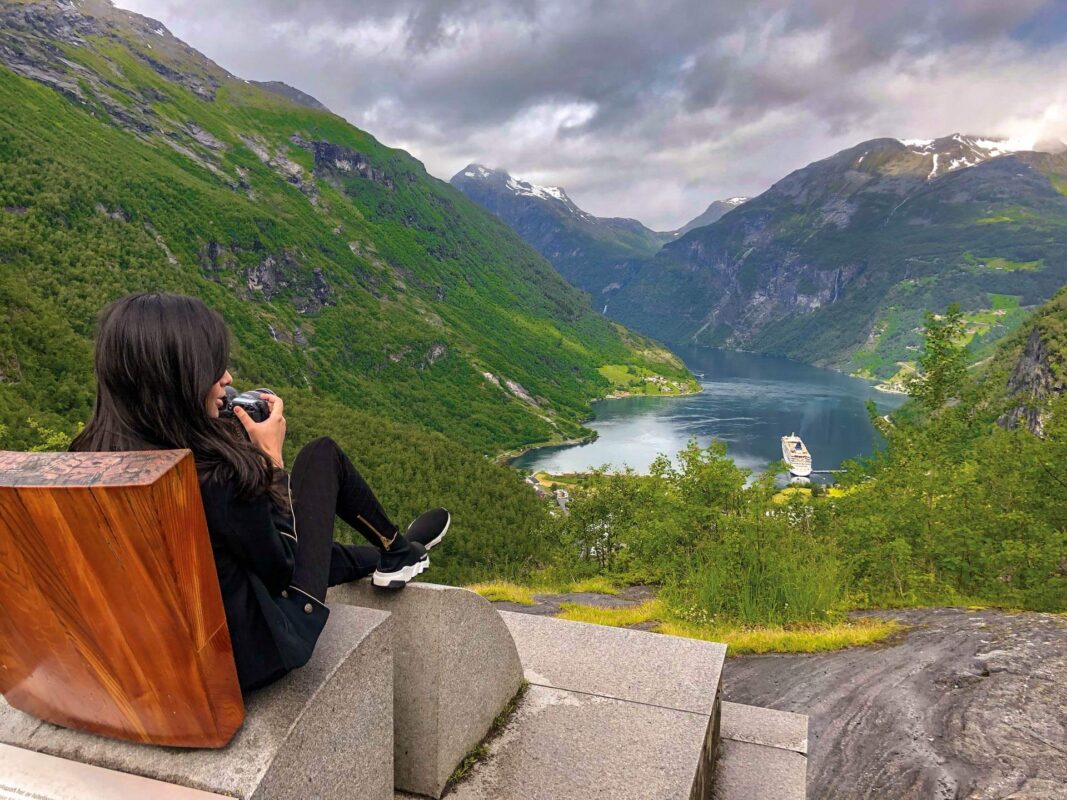 Photographer Muzi Sufi captures Norway's breathtaking fjords, vibrant architecture and fabulous food scene during a recent family trip.
What was the purpose of your trip: Work or leisure?
I went with my parents and siblings for a quick mid-summer holiday.
How long did you go for?
6 days.
What were your first impressions of the country?
Kind, helpful people and beautiful landscapes. It was very clean and the people are SO environmentally friendly which is beyond inspiring. Also, it has a fabulous food scene.
Which cities did you visit?
We landed in Oslo, which was alright in my opinion. It's a bit like any European city, nice but it's skippable if you have a short amount of time. Bergen is gorgeous, it has so much personality and the cityscape is very pretty. We also went to Ålesund, a quaint and stunning port town and from there went to the Geirangerfjord, one of Norway's most famous tourist landmarks and a UNESCO-protected site. We managed to do a boat trip from Voss to Flåm and take the Flåm railway up to Myrdal, which is a world famous train ride. Everything was incredible and you manage to see so many different types of landscapes from place to place.
What 3 essential items do you always have in your carry-on bag?
Camera, various lenses and some touch up makeup.
Did the scenery in Norway inspire you?
Travel always inspires me. I would love to go back to Norway for work or just again generally because it's so peaceful and scenic. The boat from Voss to Flåm was one of the most beautiful boat rides I've been on. The blues of the water and the greens in the hills are so saturated. The colourful wooden houses against the backdrop, the clouds down low and a white boat always sailing in the distance – it's all like a painting.
What was your favourite memory of the trip?
I had a hair situation throughout the trip, haha! There was a constant blast of wind, at least while I was there, so it was almost comically impossible to get photos without my (or my sisters'/mom's) hair flying vertically upwards. This is especially the case in the fjords!
MUZI SUFI'S STYLE MUST-HAVES
I think a red lipstick is your best friend on holiday, so carrying some nice lipsticks with you is really important.

Some new summer sunnies – alternating between black and gold oversized Diorizon sunglasses and Alexander McQueen metal round piercing frame sunnies in rose gold.

A good jumpsuit is always a must! The one I wore during the Norway trip is from Maje.

A long white dress for sure – usually from All Saints because I love the floaty styles they have.

I love wrap-over tie blouses in the summer, all types of blouses actually!

High waisted black pants and/or camel ones. They work as really great bold trousers to add to an outfit.

Honestly I pack a lot of shoes on holiday – summer slides are my fave because of how easy they are. Especially loving the Diorevolution in camel colour. Some strappy sandals are always a great idea as well. Also worth carrying are small heels to take your outfit up a notch if need be; Cult Gaia does great ones. ALWAYS travel with some good loafers and some fabulously comfy sneakers.

A good pair of jeans.

A fun and bold coloured bag. Currently roaming around with a velvet red Miu Miu.

Pearl earrings and necklaces always dress up an outfit.

A stack of golden accessories, especially love Chloe's bracelets and Alighieri pendants.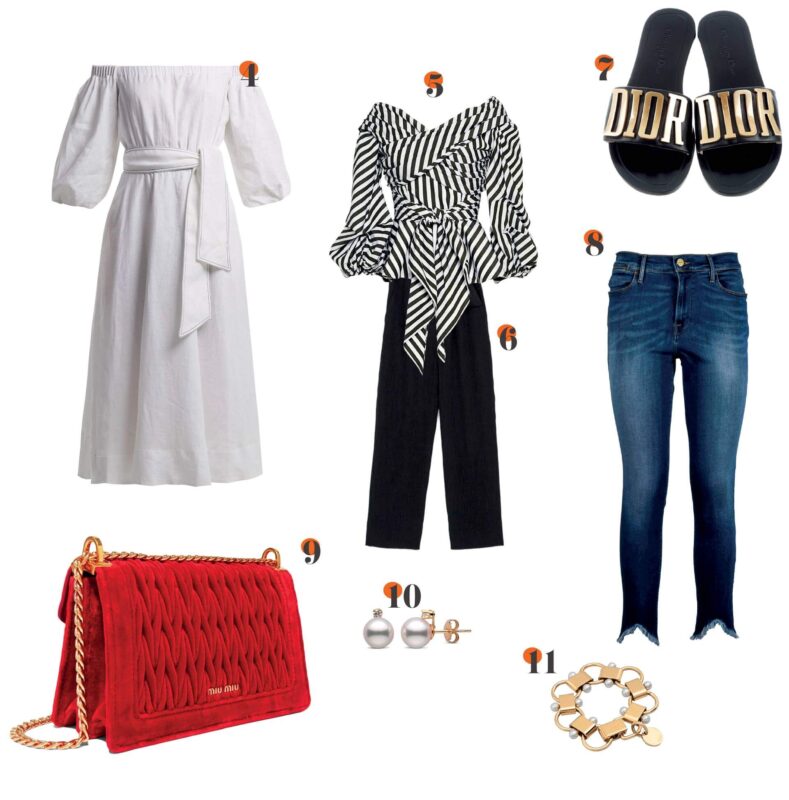 A TASTE OF TURKEY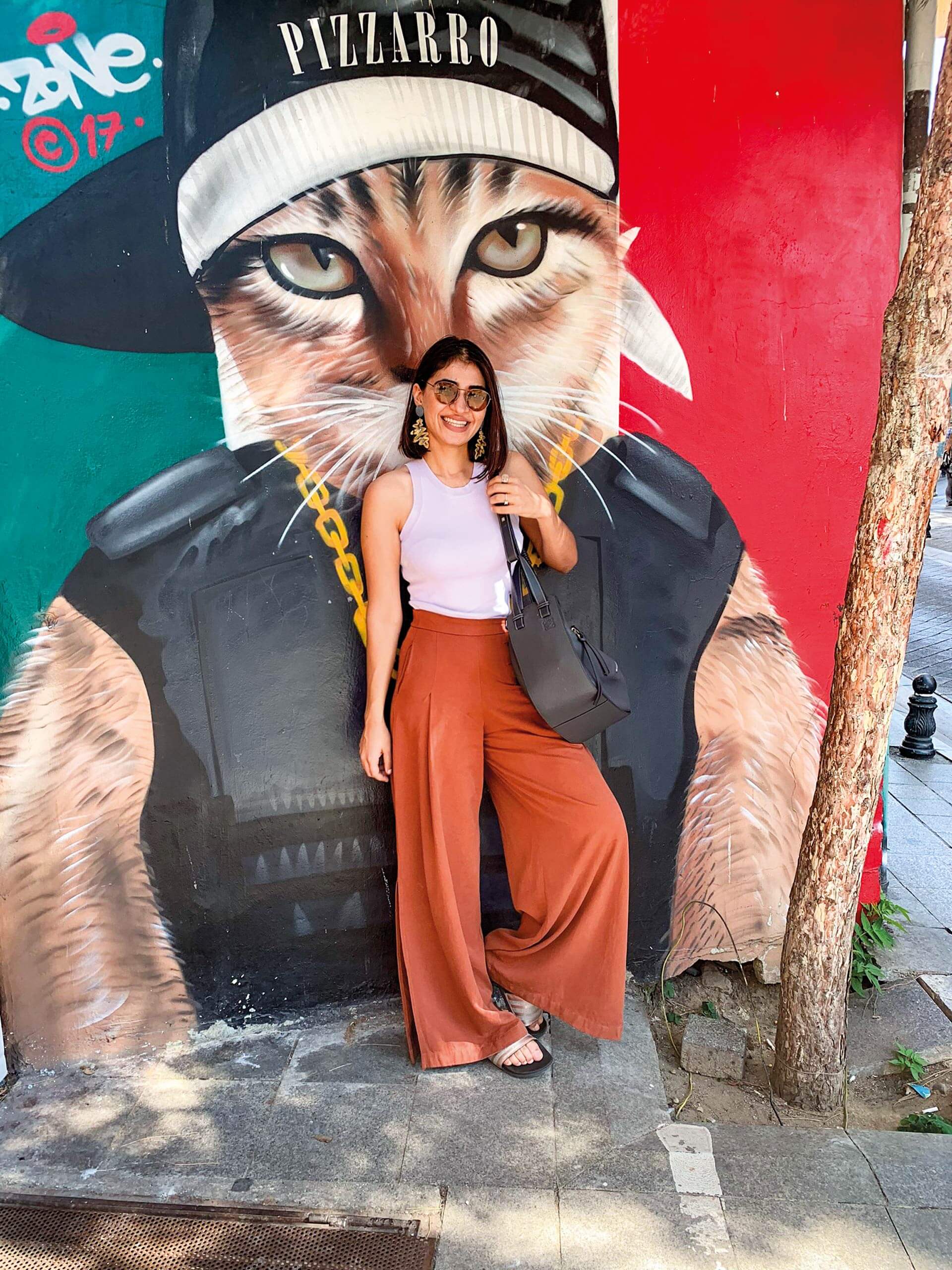 Newlyweds Mehek Saeed and Ammar Mohsin recently visited Turkey on a week-long summer break. The former a leading fashion journalist/stylist and the latter a restaurateur, they both found much to see and do around the country known for its beguiling mix of the East and the West. From the food to the fashion, the culture to the art, there was no shortage of adventures and experiences awaiting the couple as they discovered the best of what Turkey has to offer.
Why did you decide on Turkey for your summer trip?
Turkey was a place my husband and I had been wanting to visit for a long time. Not only because "it's where the East meets West" and "it's the centre of the world" but because it's always fascinated me. Usually it ends up being a stopover for people on their way to other places but since that didn't happen with me, this trip was long overdue and we finally went this summer. It's definitely a popular spot with tourists, especially from Pakistan. While we were there we got recommendations from a bunch of people – we took some, but decided to explore mostly on our own!
How long was the trip and what destinations were on your itinerary?
The trip was 8 days long. We spent the first 4 days in Istanbul, then took a flight to Kayseria for the hot air balloon ride in Cappadocia and came back to Istanbul. We had the option of going to Bodrum and another place called Alacati which is close to the Greek border but saved that for another trip. Istanbul has so much to do for a first-time visitor so I wanted to explore the city properly.
What were the top things to see and do in each of these cities?
Istanbul has a great mix of culture, history, food, shopping and the local music scene is also thriving! Kilicali Paşa Hamami is the hammam one must visit while there – you come out feeling like a newborn! We also went to a well-known jazz spot called Nardis Jazz Club. A couple of spots we checked out were Istanbul Modern, which features modern and contemporary art, and the Museum of Innocence, a 19th-century house created by Orhan Pamuk, as well as the usual historical sites in Sultanahmet: Hagia Sophia, Blue Mosque, Basilica Cistern and Topkapi Palace.
The hot air balloon ride in Cappadocia was a magical experience! There are about 15 companies there that fly around 150 balloons daily with up to 8 people in each. You can imagine the number of tourists that frequent the place every day! Your balloon company, that can easily be booked through your hotel, picks you up at 5 am. You head to their office for a small breakfast and then over to the take off site. The ride mainly depends on the weather that day – if it's too windy they can't fly the balloon as they can only control how high or low it is and not the direction it goes in.
Picture a gradual wave-like ride through the most fairytale landscape of cones, pillars, pinnacles, mushrooms and chimneys which stretches as far as 130 feet into the sky. Our balloon went up a 1000 meters on the day and I have to admit it was scary at times to think of how you're so high up in the air, with no seatbelt in a basket attached to a balloon! BUT it still has to be one of my most memorable experiences and I'd gladly do it again!
How was the food? What were some of your favourite local delicacies and top restaurants?
Omg! I'm a big foodie so if you're reading this… believe me, my best meal was on the Asian side and made the journey totally worth it. Ciya restaurant, which has also been featured on Chef's Table on Netflix, has three branches located around each other and it really made me fall in love with Turkish food. Besides that, I really enjoyed my dinner at Sunset Grill and Bar for the quality of food and the views. Nusret Burger in Nisantasi is so good we went twice! I also went to a restaurant approved by Anthony Bourdain on his No Reservations show on Istanbul called Durumzade with great kebabs. Beyaz Firin Etelier, Delicatessen and Mangerie were some really good brunches – when you go there definitely have their sucuk, which is a local sausage, only the yummiest I've had! Also try some Turkish dumplings at Bodrum Manti. Aheste is a good spot for dinner around the Istiklal and Galata Tower area and Cardak Doner for a solid doner meal in Bebek.
Which hotels did you end up staying at? Would you recommend them to other travellers?
Definitely yes! Since we were in Istanbul for about 6 days (and the city is so huge) I wanted to stay in two separate parts of it. Our first hotel was Nish Palas in The Unbound Collection by Hyatt at Nisantasi. It's a small boutique hotel located smack in the centre of the shopping area of Nisantasi. Stay here if you want to shop your heart out and have the best shops in the city around you but not really do any of the other touristy stuff.
Our hotel in Cappadocia was called Carus Cappadocia and was a real gem. Generally, hotels there are a bit older and quite small but this one had opened two months ago and had a great restaurant, bar, a wine cellar and an indoor cave pool… dream come true!
Back in Istanbul we stayed at The House Hotel, Karakoy. This hotel was set in a renovated 19th-century Ottoman-era bank building and had a lot of history of its own. It was ideally located right next to the metro, walking distance from Istiklal Street and right next to Galata Tower. I'd recommend this hotel to a first timer in Istanbul for sure.
What did you shop for? What local markets/shops/brands would you recommend?
I loved that people on the streets of Istanbul are generally well dressed and that's thanks to their local boutiques and retailers that have some great things for reasonable prices. I would say skip the Grand Bazaar unless you want to buy counterfeited bags (that's a no for me). Instead, I explored the shops in Nisantasi, Bebek, walked down Istiklal and then found a slightly empty mall to get my Zara, Sephora, Nike, Adidas shopping out of the way. Not that one feels the need to go to Zara after looking at what their local shops have to offer! ADL, Oxxo, Beyman, Gizya Gate, Cassete are some of the more memorable stores for me.
You looked amazing all through the trip! What advice would you give to others to ensure that their summer holiday wardrobe is both trendy and comfortable?
Thanks! I'd say skip on jeans altogether. Wear matching sets with strappy tops and free flowing pants. Wear fluttery summer dresses with sneakers. If you know you'll be walking a lot, just invest in cute sneakers the way I did because I wanted to explore the city on foot – as is the best way to! Normally, when I pack I would take 10 outfits for an 8-day vacation but with Turkey I was told the shopping would be good. I packed three outfits and then bought the rest there!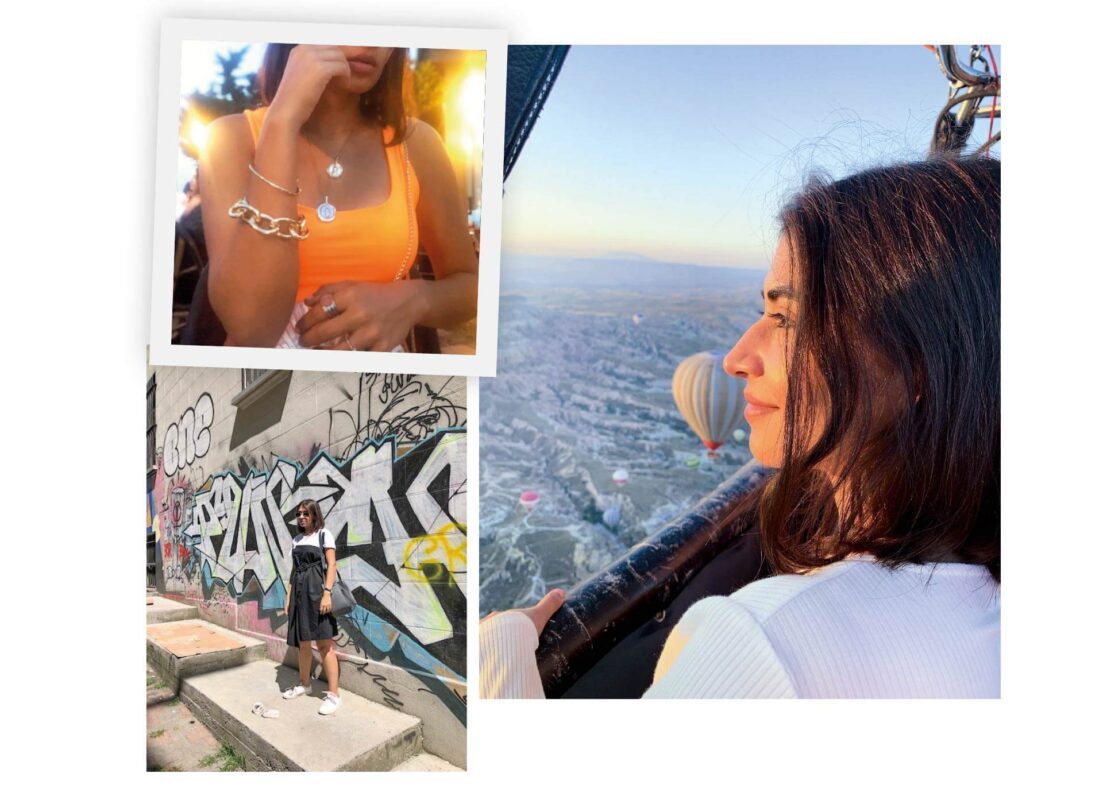 Favourite accessory to pack in your travel wardrobe?
Sunglasses! I bought a travel box for my sunglasses that fits about 10 and that's the number I took. Haha!
Your go-to holiday outfit?
A skirt and a top or matching sets.
Any general travel advice to those planning a trip to Turkey soon?
Go in better weather and stay in Karakoy, explore off beat places and definitely go to the Asian side.
MAN ABOUT TOWN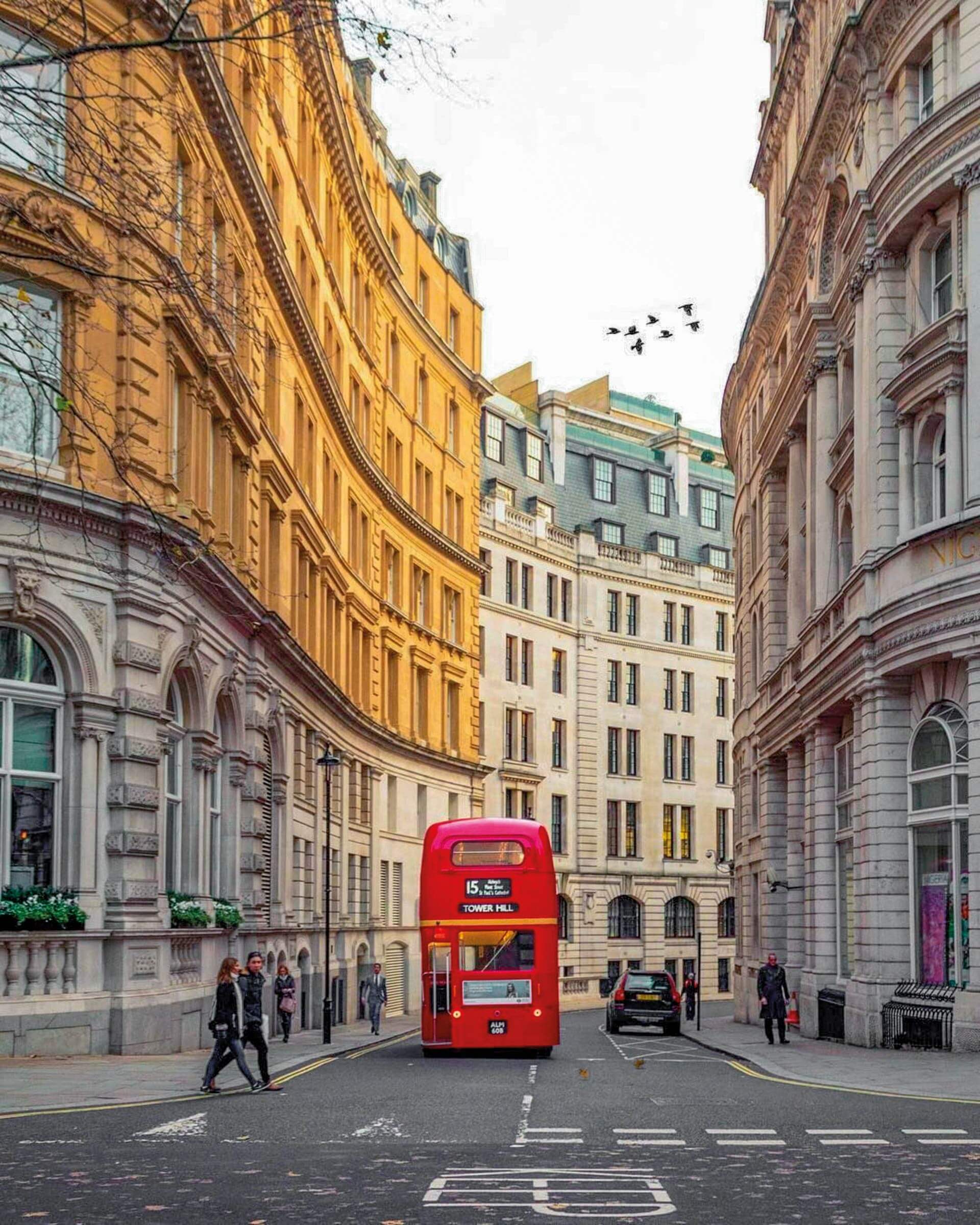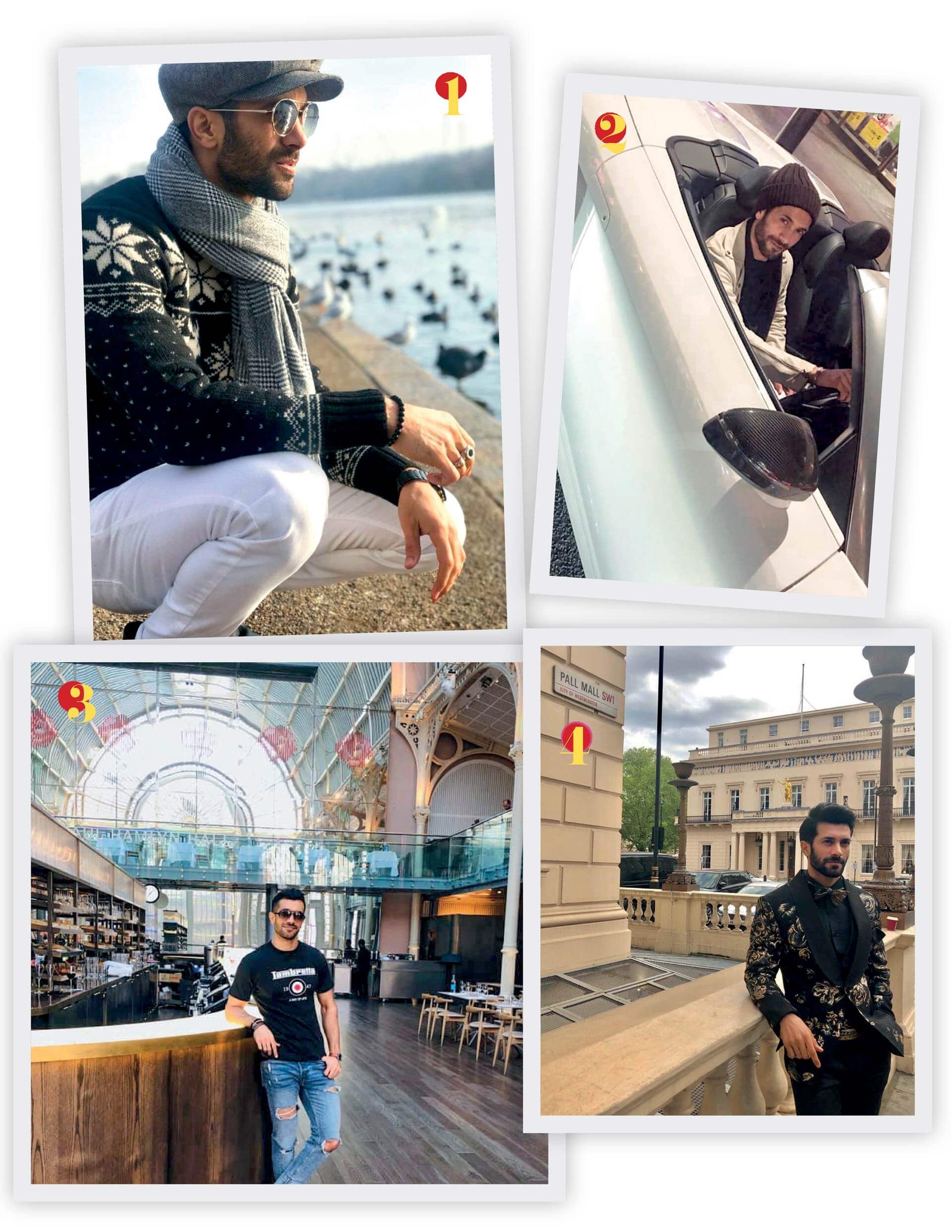 Soaking in the sun at Serpentine Lake in Hyde Park. (1)
My London ride! (2)
At the Royal Opera House. (3)
Rocking an Ahmed Bham blazer at Pall Mall, famous for its gentlemen's clubs for the past 2 centuries. (4)
Visiting Henry Poole & Co, the legendary Savile Row tailor who also made bespoke creations for the Quaid. (5&6)
My eco-friendly ride for chilly spring afternoons. (7)
Playing tourist at the Albert Memorial. (8)
Never miss a day at the gym, even while on vacation. (9)
Vintage London at its best. (10)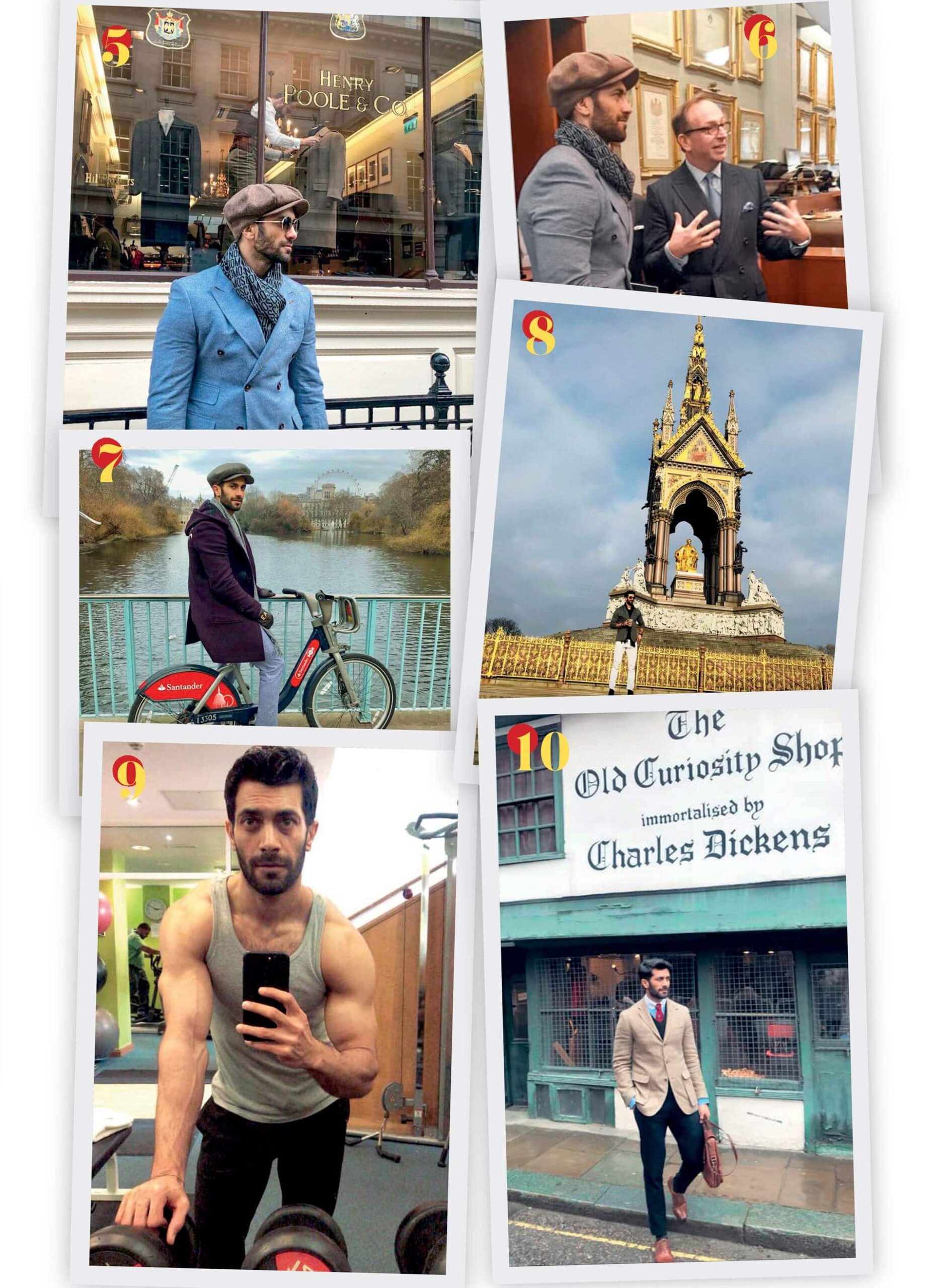 This year marked your 3rd win at the Lux Style Awards for Best Male Model; how do you feel?
It feels really great and just as exciting as the first time. Each time I win I feel even happier and encouraged to keep going.
What is your favourite city in the world and why?
Rome, Italy because the city is so alive and vibrant; it doesn't seem to sleep. It has amazing history and old buildings with beautiful architecture; and the people are friendly.
Describe yourself in 3 words.
Passionate, easy-going and open-minded.
What do you love to eat?
That's a complicated question for me to answer because I don't eat what I'd love to eat and I don't always like to eat what I have to.
Are you a night owl or an early riser?
Definitely an early riser.
You can always be found at…?
The gym first thing in the morning.
What keeps you awake at night?
Work I haven't completed or things I haven't achieved yet.
What's on your playlist right now?
My playlist is always changing as I add new songs but one song I keep coming back to and which I find relaxing is Imagine by John Lennon.
A talent of yours lesser known?
This talent, if I have one, is even lesser known to me!
If you were a superhero what super power would you like to have?
I would like the power to be able to make everyone happy; I don't think anyone else in the world has this ability.
What's your daily routine?
Up early, gym in the morning, off for some fittings or business meetings after that, a shoot in the afternoon or evening before catching up with friends for supper.
What's a perfect day for you?
Any day where I have the opportunity to help others
What was your last holiday destination?
Turkey and London. Heading to Maldives next.
What's the craziest thing you've ever done?
I've done many crazy things but I think that going skydiving, which I plan to do soon, will be the craziest so far.
AMBER LIAQAT'S NORTHERN ESCAPE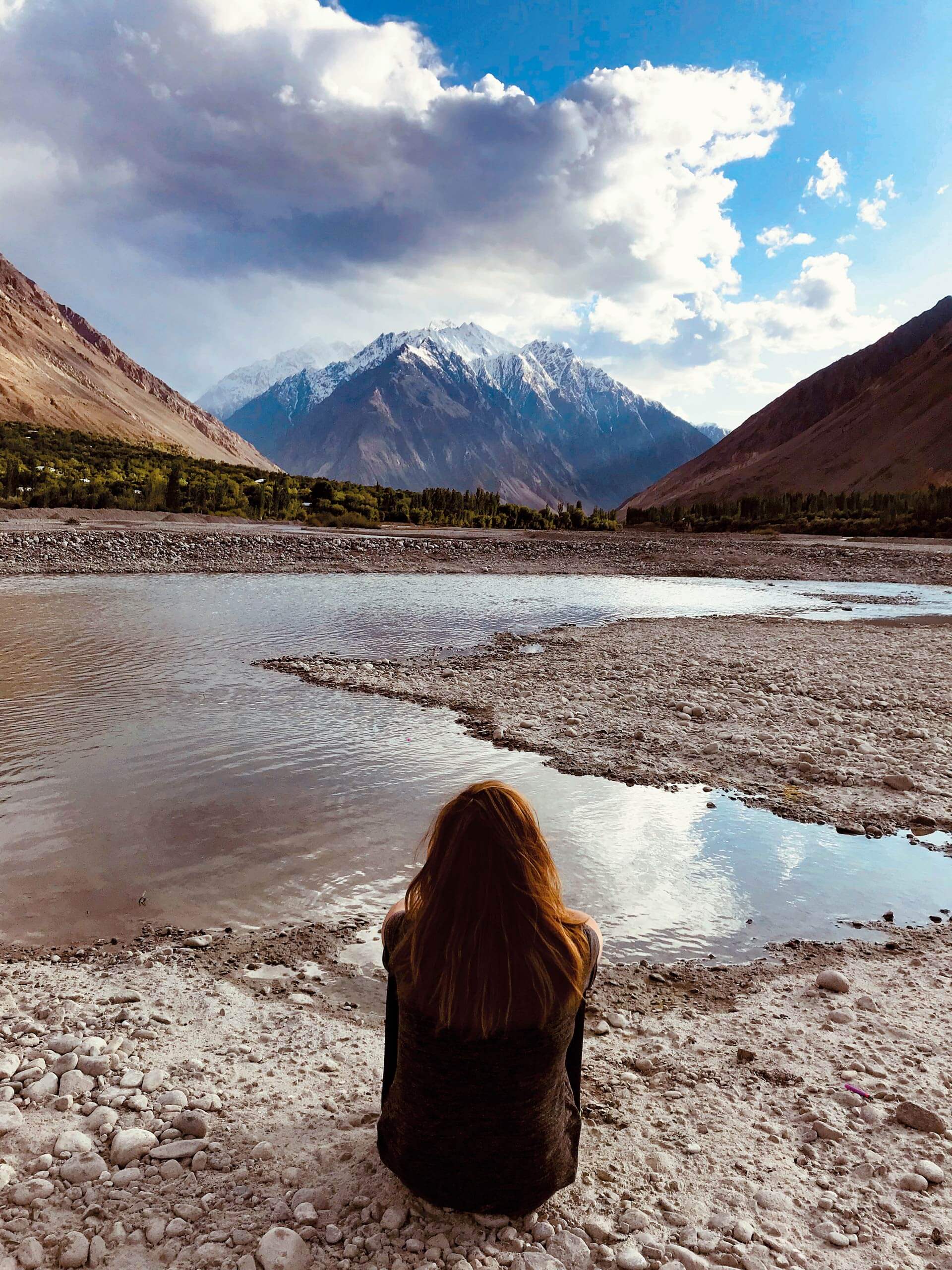 Fashion journalist Amber Liaqat recently had the opportunity to travel to Chitral in northern Khyber Pakhtunkhwa, Pakistan. A land known for its dramatic landscape, abundance of fruit orchards and unmatchable local hospitality, Chitral and its surrounding areas served as the perfect backdrop for a summer escape with friends to unwind, relax and recharge.
Chitral offers some of the most spectacular sceneries in the world and the luxurious Hindukush Heights hotel makes for the perfect base to soak in the surroundings. The hotel, which has hosted international celebrities such as Robert De Niro, Michael Palin and Ben Goldsmith, is run by the extremely hospitable and charming Ulmulk family and is a wonderful mix of local character and modern amenities, such as a gorgeous swimming pool. 
No trip to Chitral is complete without a stopover at Tirich Mir, the highest mountain of the Hindukush range.
My favourite memory from the trip has to be the days spent in Mastuj at the Hindukush Heights chalets. Mastuj is a small retreat in a lush forest surrounded by snow-covered mountains and lakes connected with the Wakhan district in Afghanistan. The wooden chalets are set in the lawns of the ancient Mastuj Fort, surrounded by apple, walnut and apricot trees. The local food is fantastic especially fruits like cherries, apricots and fresh honey.
Two hours ahead of Mastuj is the Shandur Pass, also known as 'the roof of the world. An annual Shandur Polo Festival is organized here, on what is one of the highest polo grounds in the world. We had a memorable day trip to Shandur from Mastuj, and the warmth and hospitality of the locals was very touching. 
TRAVEL TIPS
Sun block, as the sun is stronger in Chitral than it is at sea level.
A wardrobe consisting of breathable cottons and linens as it can get really warm during the day.
A wifi device to stay connected.
Music, to ensure a pleasant time during the long drives
Last but not the least, fun and adventurous company to ensure a memorable experience!